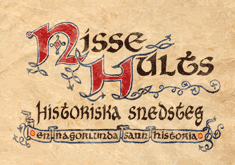 Nisse Hults historiska snedsteg is a drama-comedy that has been broadcasted in Swedish SVT in January and February. 6 episodes, directed by Carl Åstrand, have been watched: 1 - Bellman; 2- Drottning Kristina; 3 - Sven Hedin; 4 - Gustav Vasa; 5 - Tre Kronor; and 6 - Alfred Nobel.
In all the 6 episodes, Nisse Hult (played by Johan Glanz) is an innocent man with Skåne-accent that gets in troubles and tries to solve them in a new day of age, with new Swedish historical persons, like for example Gustav Vasa, Charles XII and Queen Christine. It is a funny parody of Swedish history.
Clarence Öfwerman
is the author of the original music. He also selects Swedish well-known music. For example the 90's rock band
Brainpool
appears at Stockholm restaurant "Gyldene freden" in the year of 1792.
By the way,
Christoffer Lundquist
's band, Brainpool, took part in the international songwriting competition.
The guys in Brainpool were among the finalists in
the international songwriting competition!
Their song Junk had to beat 15 other songs in the rock category to win the prize. The final rock winner was Billy Harvey.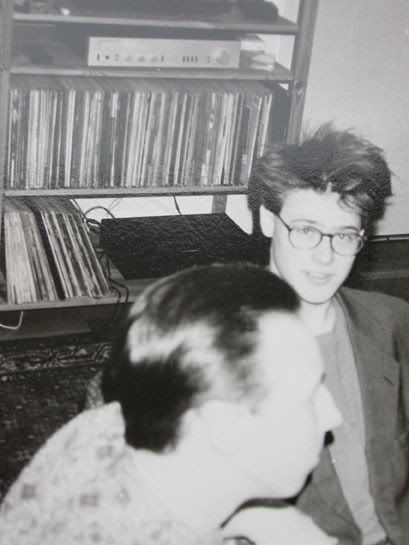 20 years ago today, I waited inside a record store. After 30 minutes, the truck arrived and I could buy the very first copy of
Elvis Costello's
"King of America"
. I went home, listened to the first side, while recording it on a C-90 tape, took the tape and my camera, got on my bike and went to a party on the other side of the town. We listened to side one over and over again.
I searched for those pics today, and found one. The happiness & the stereo shows, see pic above. I remember sitting in that chair listening very closely & discussing it with Benjamin from Beagle (left). He looks a bit drunk though… The next morning we learned that Olof Palme was killed & the world somehow changed. For me, side one and side two on that album have always been two very different experiences. On a sad day like today, this is the album that I play. For those interested, I wrote a
very long piece
about what could have been in today's paper. (Swedish)

Anders Mildner

My name is
Benjamin Peetre
and I used to play with swedish bands like
Beagle
and Favorita in the 1990ies (with Magnus Börjeson, from Metro Jets). These days I spend my time writing songs on my computer. Feel free to download them for your own pleasure.
Sweden Is Not Enough (2006)
Bad Genes And Blue Jeans (2005)
If you want to hear more, please send me an e-mail. I'll be happy to share my music with you. The puppet in the photograph is provided by my japanese fan Tomoko Suzuki.