The "Son of a Plumber" album was already promoted in large scale last year, in Sweden. Per doesn't feel it's that difficult to get into the right mood for promoting the album again, now in other European countries. He has been in Germnany, Sweden, Belgium, Netherlands, Austria, Spain and Finland.

The next single release from the "Son of a Plumber" album, "I Like It Like That," will be released in Sweden probably sometime in May. Its release depends on the chart success of "Hey Mr DJ." A new single won't be released as long as "DJ" is doing this strong on the charts. Per does however reveal that the b-side of the forthcoming single will be another 8-minute compilation of studio outtakes, "Plumber in Progress #2."

Per speaks about Son of a Plumber in the promo interviews around Europe. Read it.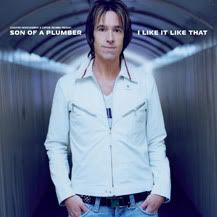 It's been fascinating. I've been travelling to several countries by now and the reception has been fantastic. I never ever get reception from the media in this way. I was just joking that this will probably be my least-selling record and the one I get most media attention for. However, I guess the problem which we will meet down the road is how to get the songs on the radio because they're so old-fashioned. But that's fine, because this album was done very much for myself. This is an album that almost any artist wants to make once in their lives. I guess that shows. The journalists notice that it's not made for the current radio format, it's made for other reasons. It is a tribute to my record collection, my childhood and my roots. We never talked like 'we have to have three singles' or anything. I actually let EMI pick the singles because I couldn't. I was too close to the songs.
I always have the same discussion with journalists. They say this music is so different from Roxette. But it isn't really different. It's different in that sense that it's presented another way, it's produced differently, arranged differently and it sounds different, but it's just another branch of the same tree. Then you can ask why has it gone this far from the Roxette sound. I think I needed all these years, to dare to do an album like this. It all started with 'Mazarin,' which was like a door opener for this album.
'Mazarin' was made in the same studio with basically the same people, but it was much more produced. 'Son of a Plumber' is much more an 'anything goes' sort of thing; no demos, trying to surprise each other in every song. I was influenced by the double albums of the '60s, like The Beatles' "White Album" and "Blonde on Blonde" by Bob Dylan. Suddenly there was space for the 'drummer's song' and the instrumentals that would've been thrown away otherwise. I wanted that vibe to be on 'Son of a Plumber' as well.
In the beginning, I didn't know what to expect. When I started recording 'Son of a Plumber', I only had instrumental music. The first track we recorded was 'I Never Quite Got Over The Fact The Beatles Broke Up' which was an instrumental song in the beginning. It's a song that means really much to me. I was something like 10-11 years old when The Beatles broke up and I was devastated. It was like a divorce and it affected me for a very long time. Things like that can affect you even more than a death of a relative. It's sad in a way, but that's how this title came up.
I think it was after the first working day in the studio when I realized that I'm going to be very bored if we only have instrumental music and wrote the lyrics. So the project evolved meanwhile we recorded it. I didn't want to make demos because I wanted us to be spontaneous. After many years making records you have to find ways to surprise yourself because otherwise you become a machine and make the same records all over again. If I'm not going to make a demo and just sit down in front of Christoffer [Lundquist] and Clarence [Öfwerman], it'd better be good. If I want them to record it, I can't just show any song. I had to shape up and only deliver very good strong songs. And they weren't able to be prepared, to take a demo, listen to it at home and come back next morning with an arrangement.
Clarence and Christoffer have been crucial to the whole project, because I trust them so much. And actually Clarence was relieved that he wasn't able to have all these demos. He has always hated with Roxette the already produced demos. For example, 'The Look' demo sounds almost exactly like 'The Look' on the album, excluding the guitar intro. It was the same all through Roxette's career and even 'Mazarin.' He hated it when I told him that the demo sounded much better and we should go back to it. Suddenly this thing was gone and he was very relieved.
Oh, iPod, it's a fantastic little machine. I tend to have a few. And… I have lost a few, too. The best record I've had this year is from this English guy called Merz. I don't know anything about him. I tried to find something about him on the Internet, but couldn't really find any. I know he made an album eight years ago and then something went wrong and it took him eight years to come up with a follow-up. It's a beautiful record and I just love it. My other purchases lately have been the latest albums from Arctic Monkeys and Rosie Thomas.