Son of a Plumber is doing some promotion around Europe: Germany, Austria, Belgium, Spain, ... No real tour for the plumbers. Per Gessle goes this time alone and just have some play-back gigs with his band, like the last one in Germany.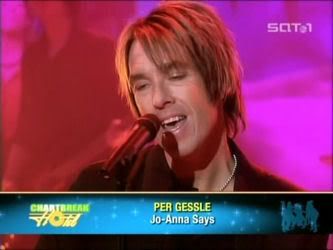 On 14 March,
Son Of A Plumber
performed the song Jo-Anna Says live for the German TV-show 'Chartbreak Hotel' at Europapark,
Freiburg
. It will be broadcasted on 13 May 2006 by the German television station SAT1.
Martinique Josefsson
, from Sandy Mouche, was this time in the SOAP band. It seems it is only a performance: Martinique was the substitute for
Chris Lundquist
!
Anders, from Junk Musik, explains the reasons:
Now who do you think is having the hardest time? My bet is Christoffer. These days, even mega-producers have to have a passport if they want to go to Basel. This information hits our dear friend like a brick as he is standing at the airport in Copenhagen 8 o'clock in the morning. He was sent home again & Martin from Sandy Mouche was called in.
Jens Jansson
also writes in Junk Musik about the TV show:
We arrived at a replica of Colloseum and were put in a room full of bockwurst & pizza. Ten minutes later, we stood on a stage covered with sand, with plastic palm trees all around.But we were not alone. On the stage, we found a bunch of german girls with hula-hula outfits and drinks in their hands. When we started the song ("Jo-Anna Says"), they all begun to dance hysterically. It was very strange. After the song was over, we were sent back into the bockwurst-room, where we watched the next guest: Suzi Quatro.

The hula-hula-girls where still there, but now they had "cool" sunglasses. The drinks had been replaced with fire, bursting out from all parts of the stage.

We left. I guess tv is different in all countries.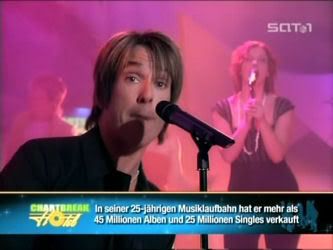 I'm really pleased because people like the record a lot! I let EMI choose which single they wanted to release first. In Sweden it was 'Jo-Anna,' and I think here it is 'Jo-Anna' as well, but other countries chose 'Mr DJ.'"

Retiring? What does that mean? Never heard that word!! I can't! I'm gonna sit there till I'm old doing records nobody will listen to, but I will make my records! Can't do anything else, that's the way I am. The writing process is always crucial for me as a person, can't really stop that, it's part of me. And there are many things I'd love to try, music for films… instrumentals. We'll see what happens. I have no plans, but it was interesting to make the ones on the album, or even 'Making Love or Expecting Rain,' which is a combined thing.

Being a plumber? No! You see, my brother is a lawyer, we are the worst craftsmen you can imagine! When there's a tap leaking or anything broken at home, my wife has to fix it, my father is surely revolving in the grave because he was great. He even built one of our houses… and I am… nah, that's not a good idea!

No plans for a Son of a Plumber's tour, but I could see myself do it, would love to play the album from A to Z, but the release dates are so different so it's hard to arrange something. Then it should work. I can't spend three weeks touring unless somebody is willing to come to the shows, so I don't know, I love to tour these days, so I would not have a problem. But maybe, I'm sure there will me more Son of a Plumber in the future, then maybe I will also tour, then I know people like it.

Our massive attack on MySpace has begun.

As you can see,
Brainpool
and
Metro Jets
are our first troops to land behind enemy land, but they have back up from our friends in
Sandy Mouche
who are well trained in close combat. Other troops will land soon. The war will be won before Christmas.

Anders Mildner