Christoffer Lundquist's Aerosol Grey Machine Studio seems to be full every week. Magnus Börjeson has taken some pics from the Studio, where he recorded Metro Jets' last work. Montag Mania, a band from Stockholm, also recorded there its last album.


This might be fun to take a look at… I have collected some pics from
AGM Studios
, where much of the music released on Junk is recorded.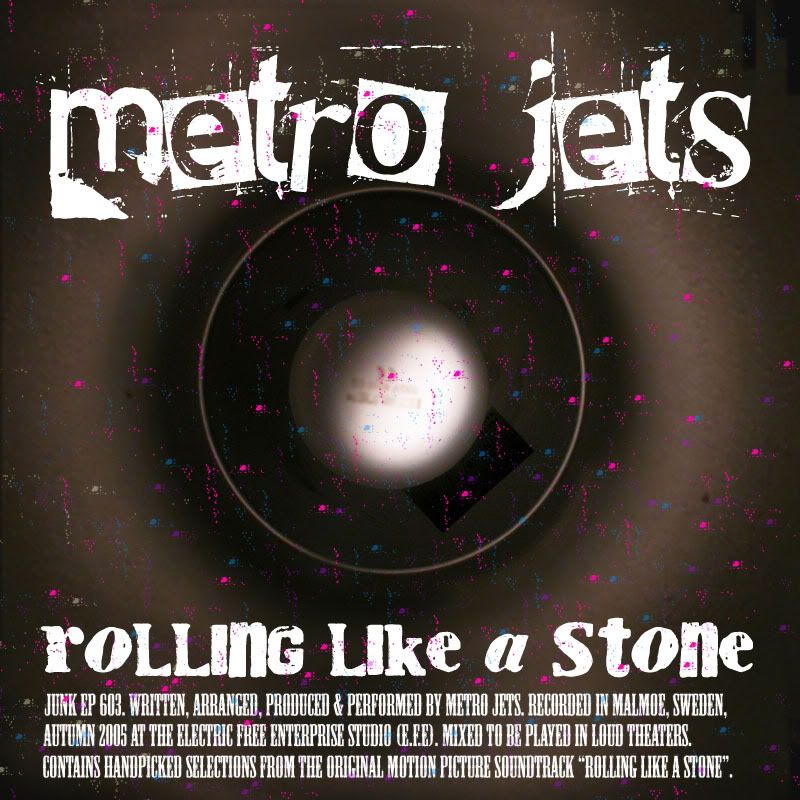 Metro Jets' film score "Rolling like a stone" will be released as soon as possible. We are working with the cover art at the moment, so you can look forward to listen to this EP any day now… This is not the cover for the next Metro Jets EP, recorded last autumn. But since we noticed
that failures are fun, we decided to continue to post them here. Metro Jets new EP contains the score from a movie about when Rolling Stones visited Malmö in 1965. My thoughts about this cover were: apartment (yes its a bulb), film poster and confetti. It didn't work out. No one understood what the picture showed.


The cover for Metro Jets' new EP is finished. It turned out nice, I think. But then Metro-Magnus listened closely to the master track and found that one guitar was missing, so the EP will first be released next week - with the correct number of guitars. We're discussing something interesting: recording the new Metro Jets songs in a way that lets the readers of this blog follow the whole process – in audio and in writing. That would be something, wouldn't it?

Anders Mildner

Montag Mania
where formed in Stockholm three years ago when the singers, guitarists and composers
Fredrik Blank
(ex-Favorita) and
Isabel De Lescano
- after intense songwriting, improvisation , sound-collection, and producing - aquainted with the open-minded drummer
Camilla Neideman
and the experimental uruguayan percussionist
Juan Romero
and began the recording-sessions of the album "Piraya" that will be released the 30 of January, 2006.
Even though MONTAG MANIA's base is Stockholm, the music contains elements from many different places and times : the brazilian psycadelic sixties (tropicalia), the Barcelonian Mestizo-scene , punk, post-punk, alternative rock, rythm.... The music was recorded during three years at various places in Stockholm, Sweden and in Lima. Isabel and Fredrik spent their time in Peru hanging out with friends, recording sounds and writing almost half of the songs that are on the record.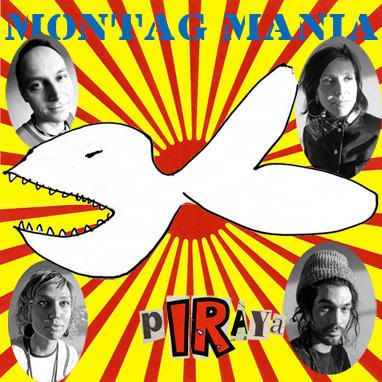 The album was produced by Fredrik Blank & Isabel De Lescano, but the final recordings took place in the
Aerosol Grey Machine Studio
, in Skäne, during 2005.
Christoffer Lundquist
mixed and mastered the album.
Visit
Montag Mania
's space. They are the aquaintance between all these different worlds and cultures that exists simoultaneously, side by side all over the planet and in the still so segregated Stockholm. A meeting that still hasnt occured yet in Sweden like in other cosmopolitan cities like Barcelona, Paris or Recife.