By December 31, 2005 the album "Son of a Plumber" has sold 102,000 copies in Sweden.

Per Gessle, Gyllene Tider, Roxette, The Lonely Boys, Son of a Plumber and now… Bad Hair Day! Bad Hair Day releases a totally secret album today, on Per Gessle's birthday. The album is free and can be found for download, together with a printable sleeve, at Per's official site. The album is "Mazarin demos" and that is exactly what it includes: the demos before the Mazarin album, mostly recorded at Tits & Ass Studio in Halmstad during 2004 with MP Persson and Milla Andersson as backing vocals. Just the last two bonus tracks were recorded at AGM Studio.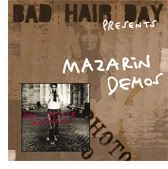 Bad Hair Day - Mazarin Demos (2006) - Tracklist:
1. Vilket håll du än går
2. Om du bara vill
3. På promenad genom stan
4. Gungar
5. Födelsedag
6. Sakta mina steg
7. Tycker om när du tar på mej
8. För bra för att vara sant
9. Här kommer alla känslorna (på en och samma gång)
10. Jag tror du bär på en stor hemlighet
11. Varmt igen
12. Mazarin
13 (Bonus track) Jimmy's gitarr
14 (Bonus track) Smakar på ett regn
15 (Bonus track) Spegelboll
"Mazarin demos" is reviewed as an actual album by Anders Nunstedt in Expressen, where it gets four stingers out of five. Nunstedt says that Per writes on sonofaplumber.com [and on TDR] that "I guess it's basically for the hardcore fan," but that it certainly isn't. He compares this album with a "Mazarin unplugged" minus the audience background sounds and applause.

I've got boxes and drawers of so many songs & ideas & rubbish lying around my house and I just felt like sharing all this with you guys out there! I guess it's basically for the hardcore fan, but still, it's kinda interesting if you're into the mesmerizing enigma of songwriting….. I start with "Mazarin" because I made lots of demos for that particular album. However, a few songs were written in the studio so no demos exist for the two colourful and epic statements "Smakar på ett regn" & "Spegelboll"… Yeehaa! Wait! I have it! I found this on a, believe it or not, worn-out old fashioned music-cassette with chewing gum on it! This low-fi recording was made in the middle of the night minutes after the song was written in the kitchen at the Aerosol Grey Machine studio, late January 2003. It was extremely cold outside but Christoffer's and Ylva's cat was purring and we all needed another uptempotrack on the record…. so this idea came up (I re-wrote the chorus the next day)…