More news about Christoffer Lundquist and friends' record company.

According to Anders from
Junk Musik
and the newspaper
Sydsvenskan,
David Birde
and
Jens Jansson
of
Brainpool
are going duo. David and Jens have a new project called
Mom & Dad
. The Austrian artist
Florian Horwath
will guest on some of the songs.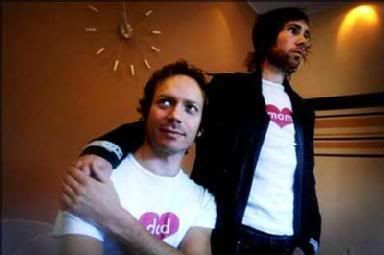 David and Jens have been backing Florian Horwath this fall on a big tour in Germany, Austria and Schwitzerland. Florian is much younger (he's "the son") and David and Jens feel they are mom and dad.
20.09.05

AUT

– Vienna, Chelsea
21.09.05

AUT

– Graz, PPC
22.09.05

AUT

– Klagenfurt, Kamot
23.09.05

AUT

– Lustenau, Carini Saal
24.09.05

AUT

– Weyer, Bertold Saal
27.09.05

GER

– Karlsruhe, Die Stadtmitte
28.09.05

GER

– München, Zerwirk
29.09.05

GER

– Konstanz, Kulturladen
30.09.05

GER

– Würzburg, Pleierhof
01.10.05

SWZ

– Zürich, tba.
02.10.05

GER

– Neu-Ulm, Salon Hansen
03.10.05

GER

– Köln, Blue Shell
04.10.05

GER

– Darmstadt, Oettinger Villa
06.10.05

GER

– Jena, Kassablanca
07.10.05

GER

– Berlin, 103
08.10.05

GER

– Halle, Objekt 5
09.10.05

GER

– Hamburg, Schilleroper
Brainpool's Christoffer Lundquist recently released a great
solo EP.
It is supposed that Jens (Mom) & David (Dad) will record new material under the name "Mom & Dad" this winter.
Jens Jansson (Mom) says:
It will be based on drums, guitar and harmonica, Florian Horwath will be Mom & Dad's guest on some of the songs. – We have completed a couple of songs. They are called "Gutenmorgen Alexanderplatz", "Was ist mehr pop?" and "Servus Motherfuckers". What will Mom & Dad sound like? It will be kind of minimalistic. Here are some keywords: Kraut, white blues, rock.
According to Junk Musik, it is not the end of Brainpool. Brainpool is still active and actually has plans to record new material soon, perhaps this autumn.

By the way, Anders Mildner also writes about the recordings with a "secret artist": this secret artist is no other than Per Gessle himself. Anders gives some important advices that Per could consider in his forthcoming album

Magnus Börjeson
(Metro Jets) & our secret artist completed the recordings yesterday. They did an amazing amount of work in just one day. (I thought it would take three days!)
Worried that crazy suburbia gangs would rob him, Magnus took a taxi to the city & met me outside Mondo, where
New David
played with
Bo Sundström.
Later, it turned out that they were only a support act. After some Sundström songs, Sundström, New david & A LOT of other people went on stage to celebrate that
Neil Young
now turns 60. We got an hour of Neil Young songs, had a nice evening and celebrated a day of good work.
I was thinking about the things I hate in music.
1) Cover versions of well known songs, featuring an actor reading the lyrics.
This was, of course, an actor's idea the first time around, but now it it is just an easy way out for lazy people with too many gigs: "Let's make something completely different!" Yeah, right. Let's be honest. Everyone hates this: the audience, the musicians – probably even the actor. A strange example is found
HERE.
Please stop it now.
2) Songs that are called the same things as the genres they are trying to be.
Example: In the last Eurovision Song Contest, Sweden had a really disturbing song (it didn't win, thank you God) called "Tango, Tango", which, of course, was a tango. We would have guessed this anyway, but just in case somebody would miss it (despite the in-your-face tango-choreography), the words in the chorus was "TANGO TANGO". You can name every genre – there will be a song for you. Sang in a jazzy-ish, reggae-ish (etc) way. As if we would'nt get it anyway. Everyone, please stop calling songs the same things as the genres they are trying to be. It doesn't work, and it will not make the songs sound like they actually belonged in those genres. Even a guy like Neil Young, who – you must admit it – knows how to rock, sounds like he doesn't have a clue when he sings "Keep on rockin´ in the free world". Oh? You meant "rock"? I thought you meant tango!
3) People performing in long shorts and bare chests.
This is so hard to relate to. I can't relate to it at all. No pop bands are doing this. Only tattooed "harder" rock bands. But what's the idea here? Are these guys coming directly from the beach? And is that "hard"?

Anders Mildner