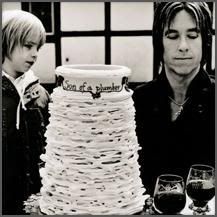 "I dag är det min födelsedag…"
("Today it's my birthday…")
Per Gessle
sang on "Mazarin" and while the song wasn't written in January, it's his birthday 46th today. Per also has promised
The Daily Roxette
a new project in 2005, so we await that eagerly. Is it going to be a new solo album? We'll see! He has been working in the studio again with Christoffer Lundquist and Clarence Öfwerman.
According to TT Spektra, Per Gessle will be one of the interviewees in Swedish national television's new series "Sixties." He will be one of the artists telling about the 60s influences in his music, especially
The Byrds
and
The Troggs
.
Gyllene Tider received two Aftonbladet Rockbjörn awards for their outstanding performance in 2004. According to Expressen, Per paid 9,563,784 SEK (1,049,800 Euros) of taxes in 2003. With this figure he was the second biggest tax payer in Halmstad. The third single from
Gyllene Tider
's "Finn 5 Fel!" will be "Jag borde förstås vetat bättre" and the release date for the single will be February 2. The tracklist is still: 1. Jag borde förstås vetat bättre; 2. Speciell (T&A demo); 3. Tuffa Tider (T&A demo).
We have news from
Metro Jets (Magnus Borjeson and David Birde)
. The last months they have been working in Brainpool's Rock Opera, Junk, but now they are working in a new album at Chris Lundquist's Aerosol Grey Machine Studio in Skäne.
Red light on! Studio? What studio? Rather than recording more of their brilliant material, Metro Jets spent last year playing comedy shows and rock opera. I´m not kidding you. This is a strange world (yeah, as if you didn´t know that already). Anyway. We have put an end to that now. We had to. Metro Jets are being driven to the studio as you read this. The studio is not even located in the city, so there is no way that they can get out without me picking them up. Car? What car? No car for you. Metro Jets next release will be out this spring.
I listen to any kind of music. I do have a especially strong love for pop and rock music made roughly between 1965 and 1975. In that period there was so much amazing music made I can't believe it. The Beatles, The Who, Crosby,Stills and Nash, Joni Mitchell, Small Faces, Led Zeppelin, Dr.John, The Band, Genesis, Yes, Van Der Graaf Generator, Simon and Garfunkel etc etc etc. This list could fill the whole page if I would continue...and all the soul music recorded in this period, the Motown stuff, Stax, Ray Charles, Aretha Franklin...not to speak of country music from the same period: Tammy Wynette, Patsy Cline, Dolly Parton. Fantastic music! But I listen to so much different music from any period including contemporary music and classical music. To tell you the truth I'm a totally single-minded music nerd. I'm really not interested in anything else. After a 12-14 hour working day in the studio I often wind down by - listening to music!


Christoffer Lundquist -
AGM Studios