The long awaited "
Finn 5 fel
" (Gyllene Tider's first new album in 20 years) is out in the stores in Sweden today, as written in TDR. Per Gessle and Micke "Syd" Andersson met with the press last Friday to listen through the album and comment on the songs.
The album is produced by Christoffer Lundquist and Clarence Öfwerman. Will it be a bestseller or a flop? Christoffer Lundquist is about to release a "rock opera" with his band Brainpool about the recording industry. Christoffer spoke about it from his studio, AGM, in a Swedish documentary recorded by Hampus Linder.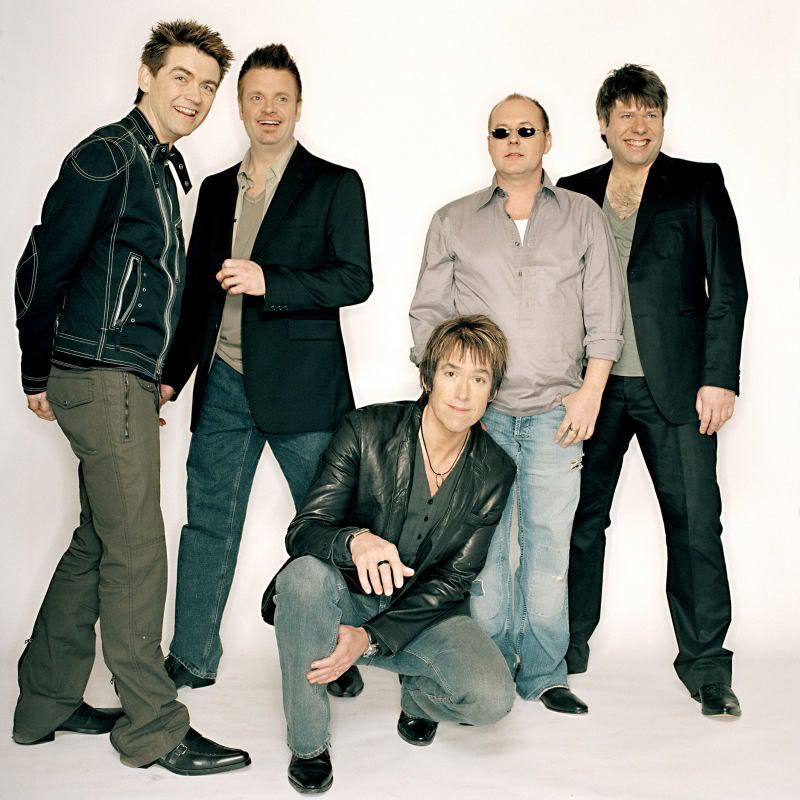 1. En sten vid en sjö i en skog

Micke: It's fun because Per has played a lot of guitar on this album, and here he plays the guitar solo.
Per: Yes, they are nice to me in this band… The song was written up in Stockholm October 2003 after we had decided to try to cut another album with Gyllene Tider.
2. Solsken

Per: It came to a very late and wet night. I found one of those dictaphones with a lot of old song embryos on. I played it to the producers Clarence and Christoffer who liked it. I wrote the lyrics the day after.
Micke: The best song, absolutely. This you should play in your car along the coastal highway down in Halmstad with a cute girl next to you… You should play it when everything is great. I get a smile on my face when I hear it.
3. Tuffa tider (för en drömmare)

Per: I went to a music store to get a ukulele, because I'd heard that George Harrison always traveled with one. I bought two and got one for free so I left the store with three ukuleles. I sat down trying to learn how to play it and realized you tune it as a violin and so I wrote "Tuffa tider". The others wanted to turn it into a reggae so I left the room! But it turned out as a reggae finally and I guess it's fine.
Micke: There's a melancholy sound to it, but it's special. When a friend of mine heard it he thought "what a fun song" but after a while he heard that it actually has sad lyrics.
4. Ordinärt mirakel

Per: I don't quite remember how this song came to me, we tried it out anyways, and it became a nice and pretty song. Anders plays a horrifying great bass on this song.
5. Ta mej… nu är jag din!

Per: We were listening to a live album by The Who and heard that riff in "Summertime Blues", then this song came alive. It felt like something we've never done before.
6. Jag borde förstås vetat bättre

Per: This is sad, it's about a guy who still is hoping… this song is one of my favorites.
Micke: There's a bridge there that is the best we've ever done… it's a waltz beat and Fritzon who isn't a pro was totally unstoppable on the piano! He didn't need a long time before he was going.
LJdM: Strings arranged by C. Lundquist and C. Öfwerman; backing vocals: by Helena Josefsson.

7. Du måste skämta

Per: Was written during my vacation in Mauritius this January. I always travel with a guitar and some simple recording equipment. The original demo was made on the plane though, in my cell phone. I still have that version…
8. Nere på gatan

Micke: I'd say this is more "Mazarin" than Gyllene Tider, but I like the beat in this song. This is also a melancholy song.
Per: The idea behind this song was a falsetto melody. Gives the album a little more weight to counterbalance all the summer hoopla.
9. 72

Per: This song is about the year 1972 when I was 13 years old. I actually wrote it for "Mazarin" but my producers felt it was too tough. I saved it and now it fits better.
10. Ande i en flaska (Gabba gabba gabba come on come on karma karma)

Per: This is a tribute to "Ramones" which I actually wrote for Roxette, but it suits Gyllene Tider much better. It was ment to be on "Have a Nice Day" and was named "Ghost in the House".
Micke: I like it, it has such a nice beat.
11. Varje gång det regnar

Per: I wrote this exactly when "Mazarin" was finished, in April 2003, and is probably closer to "Mazarin" than Gyllene Tider. One of our two ballads.
Micke: Absolutely the most beautiful song I think.
LJdM. Backing vocals by Helena Josefsson and Jennie Löfgren.

12. Hjärta utan hem

Per: This is the kind of 3-chord song that you think you've heard before. It was written on Mauritius early this year. Micke also sings the lead here, we sing about the same girl.
13. Speciell

Micke: The first singing here sounds almost like a stubborn teenager. It's just two minutes long, this song.
Per: Was supposed to be more acoustic, but became power pop anyways.
14. Har du någonsin sett en dröm gå förbi?
Per: I hadn't made a demo for this song. I came down to Skåne a Monday in February and I presented the song in the studio. They liked it, we recorded it and it was done before dinner.

It's easy to become cynical towards the recording industry but that's just pointless. None will thank you for whining. It's rather a question of having distanced myself to the industry. I no longer find it important. Now I only care about our music. At the same time, the record industry is going through a lot of changes and none knows what the outcome of it will be, which is very exciting. Hopefully these changes will boost creativity and constitute a rebirth and provide a better musical climate than the one we have today … But to be bitter and cynical – it's just a waste of time!

The traditional methods of music distribution are gone. You can no longer record an album, release it on vinyl or cd and expect people to buy it. These days there exist plenty of other distribution channels like the internet, where it's still quite hard to buy music legally. So in effect, music has become a free commodity. A lot of people aren't prepared to pay for it any longer.