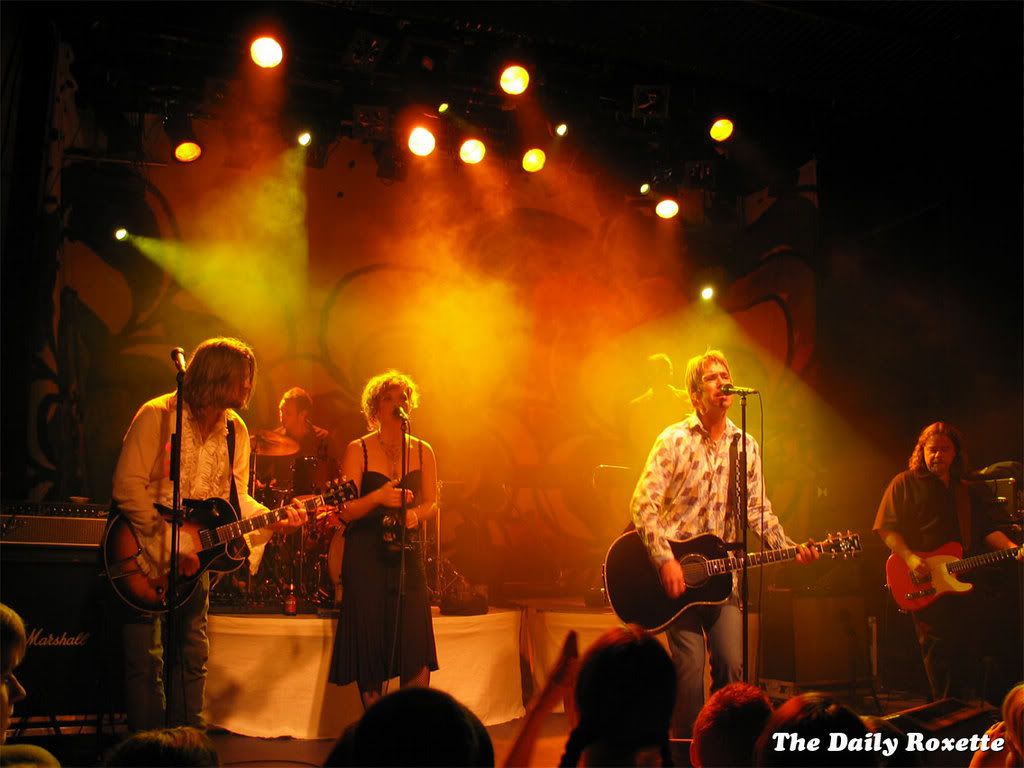 Monday Sept. 8th the second single, "På promenad genom stan", was released to the radio, and it has already entered the Rix FM's chart "Topp 6 at 6", at #5. Official release was Sept. 17.


After 11 weeks of being the solid #1 in Sweden, Per Gessle's album "Mazarin" finally folds for Britain's heavy metal band Iron Maiden on 12th September.
Due to the success in all Scandinavia, Per Gessle and Mazarinerna have also played in Norway and Finland.
23/09/2003 Rockefeller Oslo Norway
25/09/2003 Tavastia Helsinki Finland
Why Helsinki? Per says to The Daily Roxette that it felt empty when the tour ended - uncomplete. There were no more places to play in Sweden. "
So we thought about Oslo, Helsinki and Copenhagen. Copenhagen didn't work out, but the other two did.
" He also mentions that it's good for the press coverage and good for the local record company branches. "
It doesn't matter to me if it's a big place or not. The important thing for me is to play. It will be a little bit like the release party gig [in Halmstad], only longer, and better
," Per adds, smiling.
Per calls this the "
shortest world tour ever
". It started in Oslo on Tuesday and now ends in Helsinki. He feels wonderful, he says that if he'd known what kind of impact this album would have had, he may not even have dared recording it, at least not in the way he did record it. "
People stop me in the streets just to tell me how much they love the album, it's weird! And even one of the air hostesses told me she listens to the album everyday. It seems to mean so much to so many. I had no idea that people would be so touched by my thoughts!
"
Gessle mentions that after the delightful problem of interlacing the release of "På promenad genom stan" with the previous single "Känslorna", there will almost certainly be a third single.
"'Tycker om' is such a nice song, most people have that as a their favorite.
", he adds.
TDR asked if there are left-overs from "Mazarin". "
Ummm, not really. There's 'Mannen med gitarr' which Monia Sjöström got, I have a demo of that. And then there's this other song… I forget the title right now, but no, not really, a few maybe,
" Per says thoughtfully.
"
We are about to
talk about Gyl
l
ene Tider's 25th anniversary. We haven't yet. What's pro this is that it's an anniversary that doesn't come back and that it's very good for me, time wise. I have nothing planned. What's against this is that, for me, if it will happen then everybody must be very motivated. I mean, Göran [Fritzson, keyboards] doesn't even play anymore. I don't even know if he plays at all
," Per tells TDR. He continues: "
It has to sound damn terrific, the attitude has to be
right. The reason must not be that we want to go on the road again to cash in on our fans. If it's so then maybe we shouldn't bother, and do something else instead. It's a lot about checking the mood among the guys.
A follow-up question is: Will we release something new together with a possible tour? A single, an EP, an album? Who will record it? Things like that…
" TDR asks how a hypothetical tour will look, an "Återtåget 2" for instance. "
No I don't think so, I don't know really b
ut maybe a shorter tour with bigger gigs? Maybe sell out the Gothenburg stadium, I mean if Robban [pianist Robert Wells] can do it, why couldn't we
," Per grins. "
What's the bottom line, it has to be good. But it feels good, the five of us haven't met in a long time, but the good vibes are in the air!
"