Justin Winokur has finished the first recording sessions for his new album at AGM Studios with Christoffer Lundquist. Helena Josefsson has taken part as backing singer. The album could be finished in Spring 2003.

My evening started out quite alright. Christoffer had to spend about 10 hours editing vocals. So, my plan was to go to Malmö, drop off a DVD of some tracks for a friend of Christoffer, visit Eggstone at Tambourine Studios, and then go to Copenhagen for the evening.
Tambourine Studios is not flashy at all from the outside, but studios never are unless they are begging to be broken into. There was no sign, no name placard, no hint at what goes on inside the doors. I rang a bell and a man in his early thirties opened the door. He introduced himself as Maurits from Eggstone. Then I met Patrick from Eggstone and finally Per. They seemed a little shy at first, as the exact relationship between us was unclear. I was in a way a fan, but also a peer. I was a potential studio client and also a humble child in the presence of musical heroes. Per Sunding invited me to the Crunchy Frog Records Christmas party this Saturday in Copenhagen.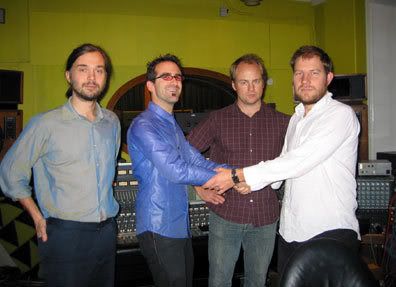 From left to right: Patrick Bartosch, Justin Winokur, Maurits Carlsson and Per Sunding
My next goal was to meet David Birde from Brainpool at the Malmö Central Station to give him the key to the broken Volvo. His job was to get it fixed for me early the next morning so I could get to work on time. Per Sunding and Hannah (his girlfriend and business manager for The Cardigans) offered to drive me to the station. Getting a ride in a proper car beats the pants off of taking a taxi, so I obliged. We talked about how with Americans, friends are easy come easy go, but in Sweden you have five friends your whole life. Per said that Brainpool was a perfect example, as was Eggstone. They all met at a young age and have been inseparable ever since.
I guess I should go to Copenhagen and see what happens there. My goal is to have some fun and find a cheap or free place to sleep.
Update (4.12.2002): California. I am home. My body aches and I feel so sick. I feel as if I ate something both poisonous and hallucinagenic at the same time. My body is shaky and my stomach trembles: patterns move in front of my eyes. And, being at work is just horrible. But, I finished eight songs and have rough mixes of four of them with me. The other rough mixes will be done in about four weeks, I think. Then we will figure out what changes need to be made for the final mixes. By that time it will be time for me to go back for another three days to record the last two songs for the record. I can't believe I got so much done in so little time. I don't miss Sweden. But, I didn't miss CA either. I missed some of my friends and loved ones. But, I feel a bit out of place here now.