Roxette has been recording this summer two new songs and the video of one of them: A
thing about you
.
According to Judith Seuma, from The Daily Roxette, Roxette is coming out soon with two compilation albums (
Ballad hits
and
Pop hits
), but Per Gessle has said today in Swedish newspapers that he is thinking of releasing a solo album too. Maybe in Swedish. The article states that Gessle has worked hard this summer. He has worked a lot with MP Persson in the Tits&Ass studio in Halmstad, to write songs and record them.
Some years ago he released a solo album in English, the report continues, but this time he wants to write it in Swedish, and release it in Sweden. According to Gessle's words, something in Swedish with a small band (he does not mention Gyllene Tider) ... and with the style of "I wanna be your boyfriend". It could be a new album with Clarence Öfwerman, Christoffer Lundquist and Jens Jansson. This "little" band could have its Swedish chance.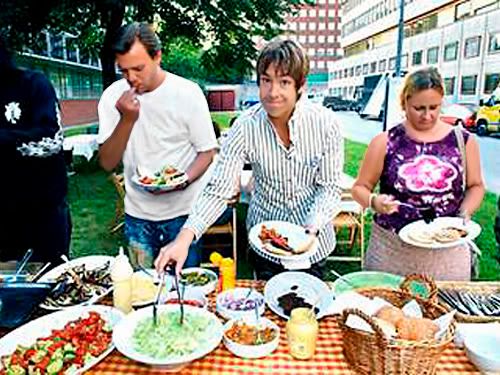 This new single of Roxette,
A thing about you
, will be a quite untypical song for Roxette, with acoustic guitars and a cello. I'm actually singing, while usually Marie takes care of the ballads.
I would like to do something in Swedish again, I havent done it for a while. I'm a bit tired of all the German TV shows. There´s something 'cooking' - something getting ready. I have written for both Swedish and foreign artists. I can´t say anything else now, but I think you will hear them soon.
New songs for a solo project would sound like '
I Wanna Be Your Boyfriend
' (my cover version of the classic Ramones' song). The style is so obvious and it would be nice to keep on working with a small band. Some of the songs I have written for Roxette are in that style. Power pop like '
Sleeping in My Car
,' but a bit more 'alive' or 'pushing.' However the record company was nagging about a compilation album. We have so many songs and have been aroud for so long that we thought it would be nice to separate the slow from the fast songs. I have written so many songs, and if we had thought about it - organised it a bit - we could have really released a new album instead. I think it's funny, since in the pop business there are many artists who come and go. It´s proof of a kind of 'substance' to be able to do such an album and besides be able to divide the two albums. It's more like knocking on the door to say '
Hello, don't forget that we're still here
.'