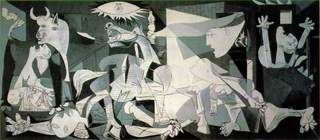 The
invasion of Iraq
by United States, United Kingdom, Australia, Poland and Denmark (other countries are also involved) has begun on March 20, 2003 without the approval of United Nations and with many mass meetings against it (LJdM's editor has also been in many of them since January). U.S. President George W. Bush claimed that the objective of the invasion was "to disarm Iraq of weapons of mass destruction to end Saddam Hussein's support for terrorism, and to free the Iraqi people. But not many people can trust in Bush either.
Per Gessle speaks about the war (Per opposes strongly) in last interviews this week during the promotion of the Pop Hits album.
PS:
By the way,
Per likes arts and has masterpieces by Picasso (not
"the Guernica", obviously) and other famous artists. Gessle was born in Halmstad, Swedish city with this sculpture of Picasso.

Well, I read somewhere that every war is always a big failure. It's terrible that we can't solve these things in a diplomatic way. It's scary, 'cos you see all these pictures on TV. It's just horrendous. We're not living in the 80s, so peace songs don't have any effect. Musicians and lyrics used to have power, but now it doesn't matter anymore. The only thing we can hope for now, is that it will be a short one and it will be over very soon.