These weeks, the new album of Roxette, Room Service, is being released nearly worldwide (excluding the USA). The album has 13 songs and was recorded last year at Atlantis Studio and at Polar Studios, both in Stockholm.

The production, recording and mixing were made by Per, Marie, Clarence Öfwerman (keyboards) and Ronny Lahti. Christoffer Lundquist, backing vocals, also played the bass, Per, MP Persson, Micke Syd Andersson and Jonas Isaacson the guitars, Christer Jansson the percussion and Mats Holmquist the string arrangements. The "newbies" in the team are the programmer Jimmy Monell (aka Shooting Star, from The April Tears) and the guitarist David Birde (from Brainpool). We can see the presence of two members of Brainpool (Lunquist and Birde) with Per and Clarence in a new challenge for this "team".
Per Gessle speaks about the album below. Since February, Roxette has performed in Promo Gigs around Europe:
Sweden: Malmö (Feb.23), Stockholm (Mar.22 and 23, April 1)
Germany: Cologne (Mar.26)
Spain: Barcelona (Mar.27) - A marvelous live show in Sala Bikini.
This time, many of the gigs have been performed live and it seems the band is ready for the
Room Service Tour
(next automn).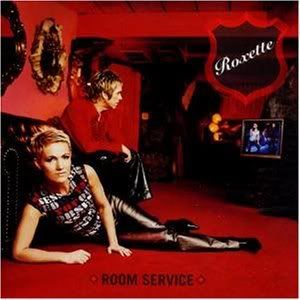 Well, when you start out as a young musician, everything is very romantic, y'Know, the whole industry, going into a studio, whatever., of course, things change after a while and there'S... nothing that... romantic left (laughs) in the music industry for us and so, of course, it turns out to be a professional thing in the end. But still it's important to maintain the love affair you have with music, I mean you have to be interested in music. You have to be interested in what you do. In that sense I don't want to be a professional, I still want to be a fan. and that approach is crucial, actually, to having success in the end. I mean you can always go to the 'How to Write a Hit Song' book and have a hit, but at the end of the day, it won't last. To have a career that goes on for a couple of decades, I mean, you have to be true to yourself. So... We just sat down and wanted to make something that was... classic Roxette, what we're really good at, doing pop. A pop record. It's disco but still fresh... The album has got 12 songs, all of them quite short... There are some really fab songs which I consider to be some of our best... Marie is in top shape and myself... I even managed to sing a ballad this time.
'It feel fucking great that both the single and the album have been received so well. Each time you release a record it's waiting on how it will be received. and I really think that this one is the best and greatest album we've done. Abroad we've received fantastic review, so the bad reviews in Sweden are a truly local phenomenon.

All the bad records I've heard, or those which didn't turn out that great, are the ones where someone had a real fix plan. "This is like it's going to sound like". This prevents creative things from happening. So for me my only idea about producing is just being open to whatever might happen. If something feels good, that's it. Be it a synth or a drum kit or retro sounds, more modern. What feels right at that moment, that's what you must do, go for. That's the only way to make good music.

We had a bit more a restrained idea in "Have a nice day" and "Room Service". For me, when I listen to those records now, they aren't as good as they could have been. There are some really nice songs, but the records could have been better. "Beautiful Things" is one of the simplest songs on the album, without many things going on in it. I wasn't much involved with "Room Service", except for playing bass, some guitar and backing vocals with Marie. But I might guess the reason is it wasn't as much fun as it used to be. I guess that's what you hear. I think that's more important than which instruments you are using. You should have fun when recording an album, then it's surely going to be good.