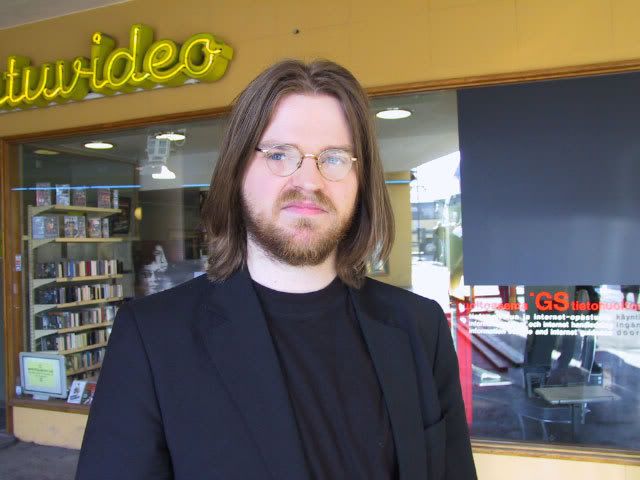 Per and Marie have been in Helsinki, Finland, today to promote their new album,
Room Service
.
Marie and Per have been backed by Clarence Öfwerman on keyboards, Pelle Alsing on drums and Christoffer Lundquist on the bass. Per has played the guitar. They also have had a Finnish string section of four people. They played "The Centre Of The Heart" (twice), "Milk And Toast And Honey", "Wish I Could Fly" and "Real Sugar".
Maybe the forthcoming Room Service Tour band could include:
Per Pelle Alsing (drums).
Jonas Isacsson (electric guitars).
Christoffer Lundquist (bass).
Clarence Öfwerman (keyboards).
Christoffer Lundquist
has been interviewed by The Daily Roxette and also aswered some quick questions to the Swedish band The April Tears. The April Tears will release a new album in January 2002, produced by Christoffer Lundquist.
Chris is an all-around musician on Roxette's two latest albums and in the band Brainpool ("discovered" by Per's company Jimmy Fun Music). He speaks about Roxette and Brainpool. Brainpool's last album, "
You Are Here
" (1999), was their first without Janne Kask, who left the band's lead singer position in 1997. The album was a flop, but Brainpool are working in a new project.
I have enjoyed working with Per and Marie. They are really nice people. It doesn't bother me that Per and Marie grab all the attention of fans. I have been able to walk out from the studios without being surrounded by autograph hunters. That's the way it is. The decision to mount another major Tour has already been reached. Per and Marie want to have a proper tour, and I'm in the band.

And Brainpool is working on a new album. It's a rock opera and it will sound something like our previous album. Kask back in the band? We don't want to work with him anymore.

Born: January 16, 1970
Lives: In the countryside in southern Sweden.
Favourite April Tears songs: All Good Things, Hong Kong and Model, Actress, Whatever.
Favourite Songs: Beach Boys - Surf's Up, Scott Walker - No Regrets, The Who - Getting In Tune, Yes - Awaken, Van Der Graaf Generator - Man-Erg (including Cog), The Beatles - Rain, Genesis - In The Cage, George Harrison - I'd Have You Anytime
Favourite cities: None. I don't like cities.
Favourite Drink: Guinness
Favourite Food: At the moment pancakes with strawberry jam.
Christoffer's favourite link:

http://brianwilson.cjb.net

Christoffer Lundquist
-
Junk Musik