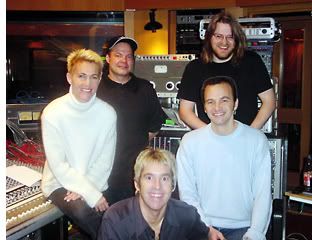 The accompanying publicity photo was released yesterday showing Per Gessle, Marie Fedriksson, Clarence Öfwerman, Christoffer Lundquist and Ronny Lahti at Polar Music Studios in Stockholm where they are busy finishing the recording and post-production of the new Roxette studio album, that could be released next Spring (by EMI ... and by Edeal America in the United States).
According to The Daily Roxette:
Per and Marie, seemingly full of enthusiasm, took time out from their schedule to record a holiday video greeting. With the recording studio in the background, they wish everyone a "Merry Christmas and Happy New Year!" The short message concludes with Per saying "See you out there in 2001!"
Per Gessle speaks about the recordings. The P,C&C Team (Per Gessle, Clarence Öfwerman and Christoffer Lundquist) is involved again in this forthcoming album.
We released the last album in the spring of '99. "Have a nice day" was the title. We were doing promotion on that one and we decided not to tour with it and got back into the studio and started to work on this album in January 2000. Prior to this we worked on the HAND album (1998). It takes about a year to do an album.

The new album is a bit a reflection of what we tried to achieve with HAND. This one was the first album in four years and we didn't know what it was supposed to be like. We just worked in the studio and did different several things. It's a very complex album in a way because it follows so many different directions. The new album is the opposite because we have tried to go back into the classical Roxette. On the HAND album for instance all my vocals are distorted and on this one it's played much better. We wanted to make it simple, obvious, easy-going and funny. I think this is the most commercial album we have ever done since "Joyride". We just sat down and wanted to do something that was very much classic Roxette 'cause that's what we are really good at, doing a POP record.

We wanted to make an album that could be uptempo and had lots of energy. For many people a classic Roxette record is a big ballad but the ballads on the new album are smaller. We do get tired of ourselves sometimes.

The way you do a record these days is very different from how you used to do it in the 80s when we started out. You work now in computers and "proto" systems and stuff like that. So the whole way of thinking is totally different. The negative side of it is that is very easy to overproduce or overdo things these days.

Not that long ago in the old days you sat 5 people in the studio you played the song and that was the take. You don't do that anymore. We don't do that either. You make drums sound or bass sounds through the computers. So of course that is different and that changes the way of writing and the whole attitude.

We got more things done in Stockholm because of the weather here is terrible. We spent more time in the studio. Working at Polar was cool, it's a great studio, where ABBA, Led Zapplin, Genesis,Legacy had also worked in. It still is a very good studio. But it got some terrible restaurants down the road. It still have taxis and stuff like that…

When we began the new album as usual we tried to bring new people into the environment. We have changed enginners for the sound of this album. And also we have started to work with this guy called Shooting Star, a Swedish programmer, who is 200 years younger than us (laughs). He's got his hear into the streets in the a different way, which is an interesting things to do. If I make a demo, for instance, and i give it to him he starts to do it freshens it up in the programmer and in the end it turns out to be a completely different song.

Well I mean we buy lots of records as always to listen to what's going on but as I said before we want to make a classic Roxette album. Try to get a litle bit of this a litle bit of that but still very obvious Roxette. Some songs still have the 12-string Rickenbacker guitars, some power chords, classic stuff.