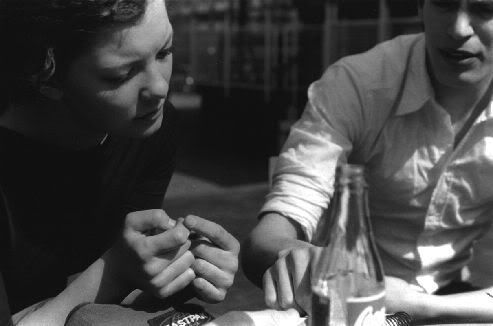 The members of
ewing.1
speak about music and influences.
Magnus Tingsek (vocals):
His favourite albums are Comes a time (of Neil Young), After the goldrush (Neil Young), White album (The Beatles), Back to the egg (Wings), Frosting on the beater (The Posies) and Songs from northern Britain (Teenage fanclub).

It all began in the town of Södra Sandby where me and my brother Anders got access to the cellar at the local library. Here we sang harmonies to Depeche Mode tunes and inhaled every Beatles recording they got get their hands on.
Great music for him is something you can listen to no matter what. If you wanna party, go to sleep or just chill out. You must be able to locate a feeling that makes you all filled with happiness or sadness In a soulful way.
Helena Josefsson (vocals)
"

I have a lot of different influences even though I´ve understood it can be hard to hear them in the music! The Cure (fell in love with Robert Smith when I was a kid and I saw him in the "Close to me" video!) Madonna, Cyndi Lauper, Marie Fredriksson, Monica Zetterlund, Björk, Kate Bush, Cranberries, Michael Jackson (fell in love with him too!), Mary J Blige, Otis Redding, Terence Trent D´arby, Nick Drake, Prince. The soundtracks of Astrid Lindgrens stories, and Peter and The Wolf by Prokofjev mean a great deal to me

.
"

The music my mom played at home was a mix of Kate Bush, the '80s David Bowie, The Temptations, Enya, all the soul queens, Bruce [Springsteen] and a record that was on heavy rotation for 15 years was Jane Fonda's aerobics vinyl with everything from The Jacksons' 'Bridge Over Troubled Water' in a disco-soul version and Jane cheering on. It never gets old! I've always sung, if I am to describe my music it sounds like my maternal grandparents were Kate Bush and Michael Jackson, and my paternal grandparents were Madonna and Nick Drake!"
Mattias Jepsson (electric guitar)
His favourite albums are Confrontation (Bob Marley), Kind of blue (Miles Daves), Bridge of sight (Robyn Trower), Bold as love (Jimi Hendrix), I centrum (Bo Kaspers Orkester), Droppen urholkar stenen (Peps Persson).
Great music for him is when you can compare the music to a certain feeling and just flow to the rythm and feel great.
Marten Dahl (bass)
His favourite albums are Songs in the key of love (Stevie Wonder), Grace (Jeff Buckley), Abbey Road (The Beatles), Charlie Mingus classical works (Charlie Mingus), Never Mind (Nirvana), Mrs. Robinson (Simon & Garfunkel). "I saw Sting play in Copenhagen -96 and that was almost too good to be true."
Great music for him is ...

when a song can fill my mind and soul with great feelings no matter what.
Johan Svensson (drums)
His favourite albums are Music for the masses (Depeche Mode), The bends (Radiohead), Nevermind (Nirvana), Songs of faith and devotion (Depeche Mode), Atomatic for the people (R.E.M), In the stone (Earth Wind and Fire)
Great music for him is ... music that touches you in one way or another. Like beautiful music that makes your eyes wet. Music that has a life of it's own, without the pretentions of the songwriter shining through. Music that's sincere and truly natural. (I'm being dead-serious here!)