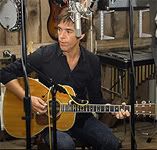 Today, Tuesday November 4 on SVT 1 at 21:00 CET, Per Gessle has been featured on the series "Dom kallar oss artister" ("They Call Us Artists"). You can watch the recordings of the album and a surprise:
Per Gessle, Christoffer Lundquist, Clarence Öfwerman and Helena Josefsson play live the song Tycker Om När Du Tar På Mej (from the album Mazarin, 2003) in the Aerosol Grey Machine Studios, Vallarum, Skåne län, during 2008.
Per will go on a small signing tour after the "Party Crasher" release:
Thursday November 27 at 16.30
Åhléns City, Stockholm

Friday November 28 at 17.00
Skivlagret, Halmstad, Brogatan 6

Saturday November 29 at
12.00 Rocks, Kungsbacka, Kungsmässan
15.00 Bengans, Gothenburg, Stigbergstorget 1
In a
recent interview with Expressen
, Per lists the best songs he has ever written and the best singers he has worked with.
The best songs I have ever written:
1.

Tycker om när du tar på mej

(Per Gessle: Mazarin, 2003)
One would think writing love songs becomes easier when you get older, but it only gets trickier. Maybe it's because you lack the naïvety that you had when you were young. But this is a real love song, written to my wife, and I'm very proud of it.
2.

The Look

(Roxette: Look Sharp!, 1988)
A fantastic little song, isn't it? It was so easy to write — everything was obvious. I built up a little ZZ Top groove and all the pieces fell into place without effort. It still sounds like a hit.
3.

Perfect Excuse

(Per Gessle: Party Crasher, 2008)
I'm really happy about the new album. This ballad is great. I sing it really quiet and it makes my voice sound very different. I feel like I've found a new way to sing.
4.

Perfect Day

(Roxette: Joyride, 1991)
We found out that Vicki Benckert could play the accordion and we wanted to do something out of it. You can never go wrong with an accordion. And it became a very nice ballad that was written the same way as 'Listen To Your Heart;' I borrowed a chorus that MP had written, made it the verse and wrote a new chorus. Marie sings wonderfully.
5.

Det hjärta som brinner

(Gyllene Tider: Moderna tider, 1981)
If I'm not mistaken, I wrote this in a park… somewhere. I can't think of any direct reason why this song is so good. It just has the pop quality that feels so obvious and it's always great to play live.
The best female singers I have had the pleasure to work with:
It was a revolution when she came into my life. Just like Clarence (Öfwerman), she makes my ideas take off. She made my songs have credibility, as if taken from the Bible. She can sing sexy, softly, expressively. Marie is everything.
She is a completely different type of person than Marie. Helena has sung on all my solo albums since 2003 and is a fantastic singer. She is a poetic, spiritual singer who is incredible at improvising. I usually just say 'sing as you wish' and she sings four to six different versions and we choose the one that fits best.
I wrote 'Always Breaking My Heart' and 'Love Doesn't Live Here' for her. The English record company said that she is a mediocre singer and it would be a problem in the studio. She sang perfectly! And in addition, made the songs have her own sound at the very first try. A real professional!
4. Camilla "Milla" Andersson
Eva Dahlgren and Anne-Lie Rydé have also made a nice effort, but Milla from Millas Mirakel has probably meant more to me. She has sung on many, many demos in the Tits & Ass studio and actually has quite a great voice. Hmm… I should write her a hit single soon!

Tonight at nine o´clock, SVT1: "
Dom kallar oss artister
"! About the new Per Gessle album, and I am on it!
Ola Blomgren from Sandy Mouche has created the graphic design of the program! On Per Gessle´s album, my favourite song to record was "
Thai with a twist
" ! I had to put the lights out around me to dare singing and improvising how I felt. Especially the ending is challenging I think. Feel like I am wearing boots waaay over my knees! Then if it sounds that way, I could not tell! But I think there are many many good songs, only I haven´t heard the results yet. I wish you a lovely day!
Comments by fans:
Congratulations, Helena! You have worked wonders in Gesle's Party Crasher. The album wouldn't be so marvelous without you. I have been reading the opinion of many Per's fans. Most of them love the album and they think it is your best work with PG.