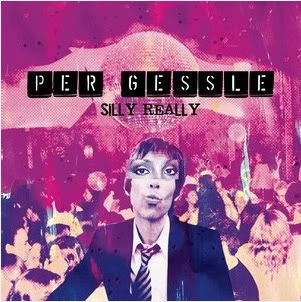 Per Gessle's first single "
Silly Really
" off the forthcoming album "Party Crasher" is released today October 29. The B-Side is "I didn't mean to turn you on", also included in the album. Both songs and the full album were recorded at AGM Studios by Per, Clarence Öfwerman and Christoffer Lundquist, with Helena Josefsson as backing singer.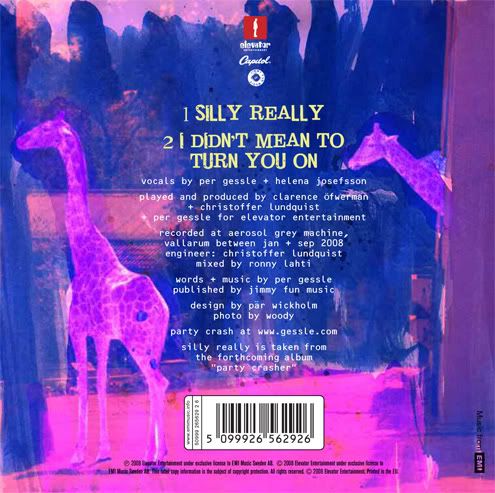 'Silly really' was premiered in RIX FM MorronZoo on Friday 24th October 2008 (Swedish TV6).
The full tracklist of Per Gessle's forthcoming album "
Party Crasher
" has been revealed: 01 Silly Really; 02 The Party Pleaser; 03 Stuck Here With Me; 04 Sing Along; 05 Gut Feeling; 06 Perfect Excuse; 07 Breathe Life Into Me; 08 Hey, I Died and Went To Heaven; 09 Kissing Is the Key; 10 Thai With a Twist; 11 I Didn't Mean To Turn You On; 12 Doesn't Make Sense. Album bonus tracks: I'm Glad You Called (iTunes bonus); Theme from 'Roberta Right' (Telia bonus).
"Silly Really" enters the official Swedish singles chart at #1 this week. "
Unusual and unexpectedly strong if you ask me!
" comments Per to TDR. The video has been directed by Mikael Wikström and produced by Björn Fävremark (STARK Film & Event, Göteborg).
If you want to know more about the upcoming album, you can read an interview with Christoffer Lundquist in
roxette.ro
, .
My 3 big influences while working for "Party crasher":
I have been in and worked with computers in the studio before, but this time I was at home with my computer and played. For me, it was a whole new way of working, and it was truly inspiring. I had not recorded a single demo when we started to record the new disc.
2. Solo band (Christoffer, Clarence and Helena):
Without them, there had never been a new album. It is funny that they like all the songs this time. Many times in the past, I have been struggling to carry out so ruthlessly commercial ideas - now, the wind was in the sails immediately!
It has become like a drug - now when everything is available, sit and download the old songs. I have found Culture Club, Human League, Donna Summer and KC & the Sunshine Band.

"Party Crasher" is a computer-made album. The rhythms are completely programmed for the first time. There's a lot more synthesizers than usual and less guitars. And Per doesn't play a single note on the album! We built the tracks from zero in the computer instead of playing together trying to find an identity to each track. Per wanted it to feel more polished and more strictly organized than the last albums so that's why we worked like this. It's also meant to be more based on rhythm. On the last couple of albums the drums have been kind of quiet and not so punchy; we have looked for more emphasis on melody and harmony for the emotion. This time we wanted a harder, stricter beat, more focus on the beat. By computer record I mean it was not recorded to analog tape like we normally do. And only the rhythms were programmed, the rest of the instruments are played by Clarence and me. Some synths are programmed but not most of them. Since there is so much keyboards on the album we have blended the synths with different acoustic keyboard instruments to try and get a more unique sound and more organic depth. When you use a lot of synths the sound can end up a bit dead so that's why we worked like that. In modern recording (since the introduction of computers as the recording media) you often have the exact same take of any instrument or maybe backing vocals for every identical part of a song. Meaning that when the second chorus comes you hear the exact same bass, guitar and keyboard takes as you did on the first chorus. This sounds more disciplined, strict and "modern" than playing through a whole song and letting every part be a little different and alive. So with this album we worked like this for the first time, we copied and pasted things to get a little more "mechanical", disciplined feel and sound than we have been striving for before. Similarly everything is done to a click track, meaning that the tempo never strays. This is the first time we did this too. I think it's very important for artists to break new ground and to try to vary the way they work to try to avoid repeating yourself. As an afterthought I maybe think that we should have changed directions sooner, "En Händig Man" is not my favorite album. Probably because we were trying to do something in Swedish that we'd already done in English (SOAP) and you find yourself doing the same thing over again. And then it's bound to be not as good as it was the first time, when those particular ideas were fresh and exciting. So I'm very happy about the new album, it's very fresh and exciting to me. I've certainly never done anything like it before even though Per and Clarence have more experience working in a similar manner from the Roxette days. But this was still very different of course. Since I'm a great great fan of Roxette music it was fun for me to get into to this way of thinking.

What is my favorite song of Per's on which I have worked? The most difficult question ever! There are soooo many....! "Late, later on" and "Hey, Mr. DJ" off SOAP are big favorites of mine as well as "Vilket Håll Du Än Går" from Mazarin and "Silly Really" from the new album. Right now it's everything from the latest album. The newest one is always the most fun.... And lots more....


Christoffer Lundquist -
AGM Studios