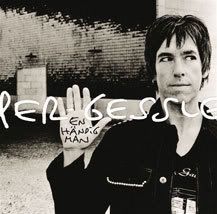 "En händig man" was released today, at least online.
"En Händig Man" is – like "Mazarin," Gyllene Tider's "Finn 5 Fel!," "Son of a Plumber" and most recently Roxette's two new tracks "One Wish" and "Reveal" – recorded in The Aerosol Grey Machine down in the heart of Skåne.
It is also recorded with (mainly) the same band and the same producers.
CDON has a bonus track named "Ett perfekt ägg," another instrumental, while iTunes has both "Ett perfekt ägg" and "En händig man (demo)." But wait, that's not all! Telia has yet another bonus track named "En händig man (blåser)." CDON's and Telia's tracks are copy protected. On Wednesday the physical CD of "En händig man" hits the stores. The vinyl edition will be out in about three weeks from now. This morning, Per's new video was presented on SVT in all secrecy…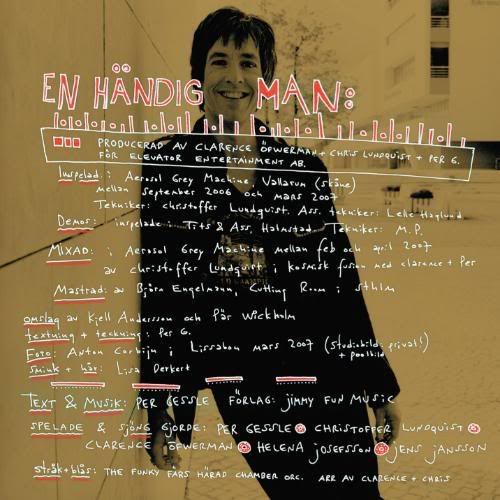 01. En händig man
Per Gessle: "Was written on the balcony on a sunny day in Halmstad last summer. The title and the main idea for the lyrics came first. We recorded 2 versions in the studio in Skåne.
The first one (which we now refer to as "En händig man (blåser)" /btw. "blåser" means "to blow"/ sounds totally different with a quite a big intro and with a… that's right, a brass-section, with horns. Clarence and Christoffer wanted to try out a brass and a string section. But I felt my voice sort of disappeared in the arrangement. I had a completely different route planned for this song. I didn't really like it, it felt like the original idea got lost in the shuffle and my voice sort of disappeared in this big mess… so we made a new, more "primitive" take and that one became the opening track and the first single! The version you hear on the album and single is more or less the way I wanted it to be. But you know, you have to try different things all the time otherwise everything would sound the same at the end of the day."
LJdM: "A nice mid-tempo track, it
sounds really smooth and relaxed"
02. Pratar med min müsli (hur det än verkar)
Per Gessle: ""Pratar med min müsli" has got a killer organ-intro! Did an acoustic demo in Tits & Ass last summer that turned out really cool. When I played it for C&C (Clarence Öfwerman & Christoffer Lundquist) totally new things popped up in their amazing minds. Suddenly we had a "Doors organ", a rattling drum beat in the choruses and The Lovely Helena (Josefsson) blessing the middle eight. I was overjoyed of course! The lyrics, I'm sure you know, are about a lonely sod sitting by himself talking to his breakfast about how great everything will be… maybe… eventually…"
LJdM: "The Doors' frisky sound. According to TDR, Per says this guy is having a conversation with his breakfast cereal about this girl he wants. He feels they have a future together even though they are total opposites.
Well, his breakfast has a beautiful female voice: Helena Josefsson's!"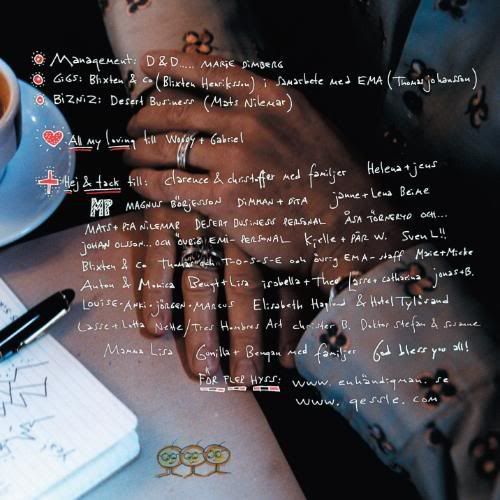 03. Jag skulle vilja tänka en underbar tanke
Per Gessle: ""Jag skulle vilja tänka en underbar tanke" became just as good as I had hoped for. That's probably my favorite track of them all. Was everyone's favorite in the studio from day 1! It's one of those songs that makes you smile while you're writing it! It has happened a few times over the years and I was lucky to experience it even as a 47 year-old!!! The title came first, I've had it in my big black book for ages. We saved this song to the very end since we wanted to get some experimentation out of our systems recording other songs first. Cos this song needs almost nothing. Our main job was to hold back. A few acoustic guitars, some backup vocals and a bassline McCartney would have been proud of. Glorious. Probably I would choose "Jag skulle vilja tänka en underbar tanke" as the next single. I think it can be really really powerful live. It's got that semi-religious feel to it, hallelujah, have a beer and a smile, you know what I mean?"
LJdM: "A mid tempo track that just hits my heart. Great lyrics and a relaxing melody.
It stays in your mind"
04. Fru Nordin
Per Gessle: "Well, my wife's name is Nordin so everyone assumes it's about her. And that's… so funny. Well, maybe it is… come to think of it…! I wrote it in the studio in Skåne last winter and knew immediately that it needed some frenzy, some "The Who-inspired guitars" and kinky drums that Jens (Jansson) plays so good just after breakfast. Didn't like my lead vocals so I re-did them late at night just before the final mix in April. It's so much better now."
LJdM: "Some more noisy guitars and distortion! In my opinion, it could have better been a Gyllene Tider's song".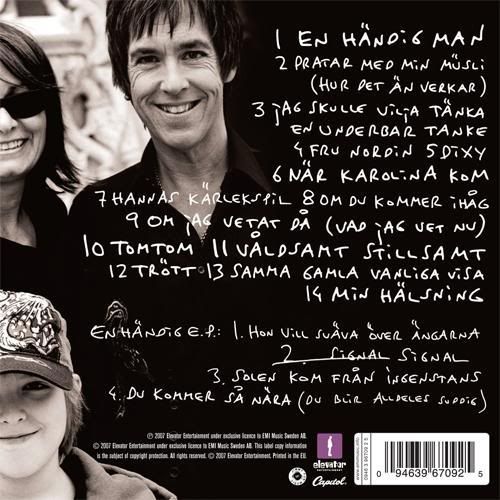 05. Dixy
Per Gessle: "Was also written in the studio in Skåne last winter, both lyrics and music at the same time. It took about 2 hours. When I was done I played it for C&C and we did a take immediately. I had the capo on the 9th fret (my old Martin) and someone thought it would be funny to have a clarinet playing some free-form notes, almost Dixieland-style that we know nothing about. Said and done, Christoffer fetched an old dusty clarinet and did the overdubs before dinner! What a guy! Especially considering this was the second time ever he held the instrument. What would I do without these guys???"
LJdM: "Chris playing the clarinet? He is a genius. And Helena with the "Sha-la-la-la-la-la…
" It is one of the hidden pearls of the album."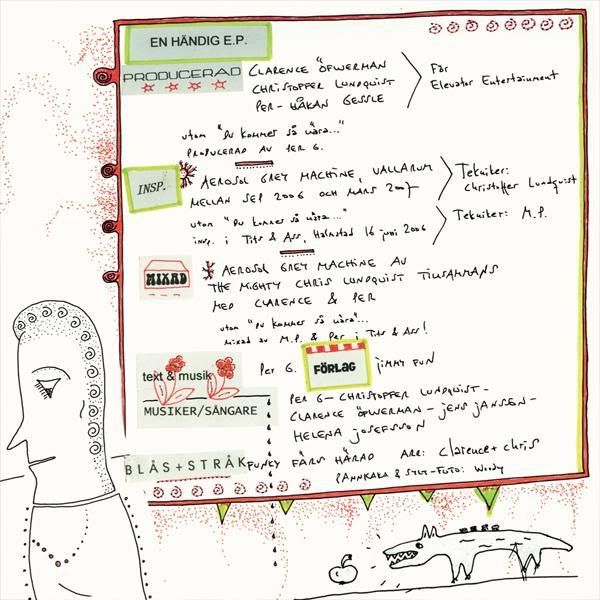 06. När Karolina kom
Per Gessle: "Yepp, wrote it in the studio in Skåne! The verse has a sort of summer vibe to it that's very appealing to my ears, the chorus is really just finishing up the verse and takes no space at all. It's the verse that's the whole thing, you know… The core in the lyrics is about… no one you know… we're talking about my childhood and the '60s… hence the line "himlen var full av astronauter" ["the sky was full of astronauts"]… They landed on the moon in 68, right?"
LJdM: "Childish love. Karolina seems to have been a neighbor of Per's in the late '60s! Per means a 7-year old girl."
07. Hannas kärlekspil
Per Gessle: ""Hanna" pops up here and there. She's so funny. Don't remember much about this, I know I was listening to The Kinks a lot when I wrote it and it does sound a bit like an old Kinks-song from, say '65. Nice saxophones in the middle eight which C&C recorded while I was looking away."
LJdM: "Hanna is back, Hanna from "Henry, dansa inte disco" and "En händig man." Another '60s flirt, an up tempo track. It seems GT meets the Beach Boys - clap your hands everyone!"
08. Om du kommer ihåg
Per Gessle: "I like this one a lot. "Om du kommer ihåg" I'm very proud of. It has one of those very intimate lyrics and melody lines that just pops up in your head. In my head anyway… hard to put my finger on it. I wrote the melody and the lyrics at the same time in my library here in Stockholm, in front of the TV in my living room in August last year. They fit rather good together. And my fingerpicking is of course out of this world, ha ha ha… It's hard to be this simple and hold on to it, anyone who writes songs knows this."
LJdM: "One of our top songs. A reminiscent of "Tycker om när du tar på mej" mixed with some "På promenad genom stan." Acoustic, very smooth. Helena provides the necessary background atmosphere…sounds like dreaming away.
Simple, direct, touching lyrics".
09. Om jag vetat då (vad jag vet nu)
Per Gessle: ""Om jag vetat då" was written as "If I'd Known Then (What I Know Now)" for Roxette 2002, but there wasn't any time, Marie was ill so we had to concentrate on just one track. So we chose "Opportunity Nox" instead. Rox never recorded it so I wrote some Swedish lyrics to it that's been in the drawer ever since. Gyllene was scheduled to record it for "Finn 5 fel!," but the song didn't fit the concept. Everyone in the band liked it but we felt we needed another type of material for that particular record. But for this album, it was perfect. Its time is now!!! I like this one very much. It has a lovely '60s aura around it. And Christoffer added some groovy Beatles-inspired 12-stringed acoustic guitar licks in the verses that are top notch in my book! Awright."
LJdM: "It's really a beautiful song, strings & chimes and all. Very powerful chorus, a beautiful duet Even better than it would have been with Roxette I think".
10. TomTom
Per Gessle: "Was written ten seconds too late to be included on "Mazarin." The problem with songs collecting dust is that you forget, or get tired of, them. I had forgotten about this one, but C&C reminded me! I seem to recall that I was going to write a whole streak of songs featuring TomTom, but this is as far as I got. I'm sure he'll be back."
LJdM: "Nice intro and relaxing song with easy lyrics. Another song with Gessle's summer sound"
11. Våldsamt stillsamt
Per Gessle: "This is how I sound when I put on my dark skinned mask! Ha ha ha! The balcony in Halmstad again! It was time for some '60s R&B and this is how white I sound when I wear my James Brown-mask, ha ha ha!!! I got the title and the rest came all by itself. This kind of song doesn't need too much "weight" in the lyrics. If it does then the lyrics take over and they shouldn't. They should just support."
LJdM: "Blues feeling. Lonely Boys? Lots of energetic drums, Hammond organ, saxophones ... and cow bells. Very Gyllene Tider, but with a twist."
12. Trött
Per Gessle: "I seem to recall this was born just after the end of the GT25 tour in 2004. I love these great neanderthal guitar riffs (my best since "Come Back Tomorrow (And We Do It Again)" from the Plumber album!!!) and this one has some Led Zep in it. We stress this even further with an electric piano that dubs the riff. Can become very cool live…"
LJdM:
""Fast, heavy Gyllene Tider sound. One can almost see Micke Syd play this one. And in the second verse you get a gorgeous angelic background choir!"
13. Samma gamla vanliga visa
Per Gessle: ""Samma gamla vanliga visa" has that lovely '70s pop feeling that I adore. Sort of like "Hjärta utan hem" from "Finn 5 fel!." Another idea that's been with me quite a while. Wrote the verse in the studio in Skåne and finished it off down in Halmstad. The idea was to write a summer song without muscles but with a spark in the eye. One of my favorites from the EHM-sessions. I love Helena's middle-eight. Such a great girl."
LJdM: "Shalalala song.
"Samma gamla vanliga visa" is a title Per has been wanting to use for a long while now."
14. Min hälsning
Per Gessle: "Wow! I wrote this when I was 19 in 1978. There are some old rehearsal demos by Gyllene Tider from 79 but GT never recorded it. I rewrote some lines in verse 1 that were really stupid, otherwise I kept everything intact. I was looking for old demos and tapes that looks "vintage" and worn and can be shown in the forthcoming PG-book and I ran into this old cassette. I had totally forgotten about it. I remember I liked the song a lot at the time, but it didn't fit into the concept of the first GT album. Sorry to say…. I've forgotten who the song was about… such a shame… "Min hälsning" became an unexpected winner. It's recorded completely live in the studio with vocals and all. We didn't know how to arrange it so we wound up doing a real old fashioned live recording in the studio. I sang and played the guitar, Clarence strummed another acoustic geet while Christoffer grabbed an electric Gibson ES-175 jazz guitar. It sounded fab after just one take, we couldn't do it any better. Then we added a bass guitar and an organ and Helena paid visit with some splashes of her technicolor magic. Hallelujah."
LJdM: "Finally we get a ballad as the end of the album and side B of the LP.
A very old GT song – beautiful in its purity. Almost country sound"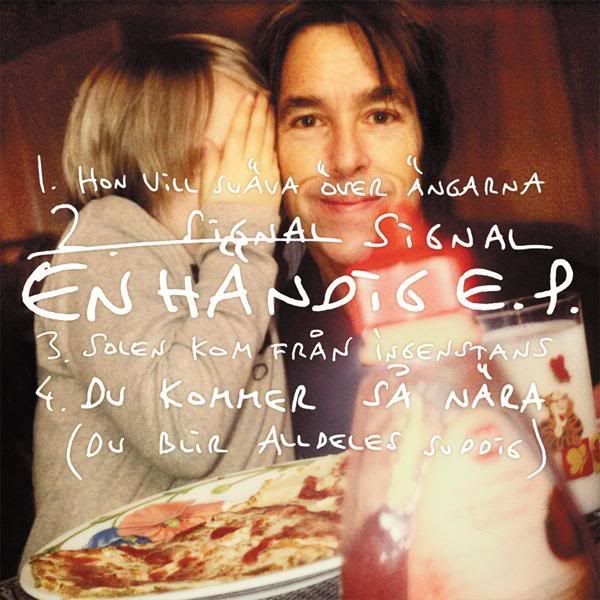 EP1. Hon vill sväva över ängarna
Per Gessle: ""Hon vill sväva över ängarna" from the EP is also excellent in my book. Another one of my favorites. Wrote both the lyrics and the music down in the studio in Skåne. It felt perfect as the opener of the EP. Recorded it in two different keys but we chose the "highest." I love love love this chorus."
LJdM: "It is another Gyllene Tider sounding up tempo song with a great bass line."
EP2. Signal
Per Gessle: "Didn't really know where this song should go. I always felt that the lyrics should be in the front row. I liked that. Christoffer thought it sounded like an old Fleetwood Mac-song so I guess we started thinking along his lines. The "pom-pom" vocals in the outro are very much L. Cohen, don't you think?"
LJdM: "We truly love the verse and bass line."
EP3. Solen kom från ingenstans
Per Gessle: "Was the ending track of the album until we recorded "Min hälsning." I like the lyrics and Helena sings as wonderful as ever. There's an instrumental version as well, called "Vet du vad jag egentligen vill?" but I guess you know that."
LJdM: "Solen kom från ingenstans" is the vocal version of "Vet du vad jag egentligen vill?" from the single "En händig man," and it's just lovely. "

EP4. Du kommer så nära (du blir alldeles suddig)
Per Gessle: "Exists in two different versions. This, which ends the EP, was recorded in the Tits&Ass studio in Halmstad last summer. Stripped, only acoustic guitars and some beautiful hi-pitched pling plong on the piano and a mini synth. It felt good. But it's such a sad lyric."
LJdM: "All acoustic guitars and an organ humming in the background to end the EP."


In our opinion, "En händig man" does not beat "Son of a Plumber" or "Mazarin" but there are some really good songs inside it. The voice of Per sounds better than ever and Helena Josefsson helps a lot to create a marvelous sound.

I have to shape up on the next record! All in all, I'm REALLY pleased with the album. It turned out just the way I wanted it. All 18 tracks have passed every test in my book. Hope you'll enjoy them!

By the way, today, Helena Josefsson recommends us to listen to
Karin Turesson music
.
Wow! Well done, Karin! What energy and what fine lyrics! Hurrah!

Karin Turesson
has been working at Christoffer Lundquist's Studio. Karin writes about her life and her music:
My life is and always has been music. Playing the piano all started as we were then living in Germany, and

continued when we moved to Sweden. I formed my group in 2000 consisting of voice, piano, string quartet, bass (Ulric Johansson) and drums (Mats Persson, from Roxette). Maybe you've seen us at: Kulturhuset in Stockholm, Umeå Jazz Festival, Malmöfestivalen, Mejeriet in Lund. I've been playing with Annalena Brundin, Agnes Berg, Nina Persson (Cardigans), Robyn, Tingsek, Hello Saferide, Ebbot (Soundtrack of Our Lives)...

K.T.

Karin Turesson
has recorded a new video,
Fel eller Rätt
, directed by David Giese. Karin sent to LJdM's editor the link to the video (
Watch the video here
) and wrote about it:
In the film I'm a "cleaning woman" reflecting about what is right and wrong in life, and if those who have been evil to us will get an evil end when life is ending.


Kind Regards
Karin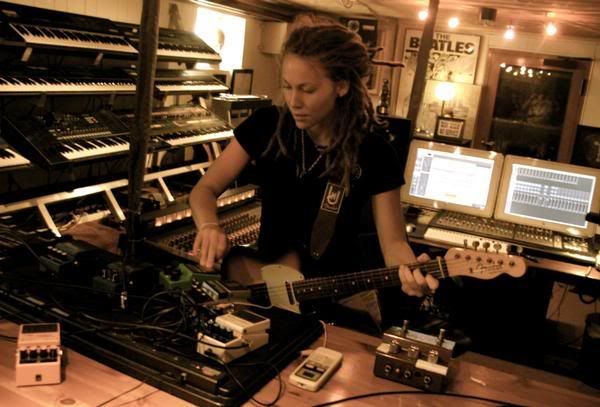 I am Mariette Hansson (

MaryJet

), an up-and-coming young performer from Halmstad, Sweden, who has been a part in numerous musical groups in the past years. I am now working on my first solo album, In the skin, which is expected to be released in the winter of 2007. Most of the material is written by myself, and to back her up during recording are some fantastic musicians, as well as producers

Mats "MP" Persson

and Rickard Bengtsson.
This is MaryJet band:
Mariette Hansson - vocals and guitars

Fredrik "Gix" Johansson - bass

Mats Johansson - keyboards and backing vocals

Mats MP Persson - acoustic guitars

Jaime Salazar - drums and percussions

Tony Levin - Chapman Stick

Linnea Olsson - cello and backing vocals

Margareta Sköld - violin/viola

Fredrik Davidsson - trumpet/flugelhorn

Therese Allbjer - backing vocals

Ralph van Manen - vocals

Sandra Holmgren - backing vocals

Soundengineers / Producers/ Heroes: Rickard Bengtsson & Mats Persson

Graphic Designer: Johan Augustsson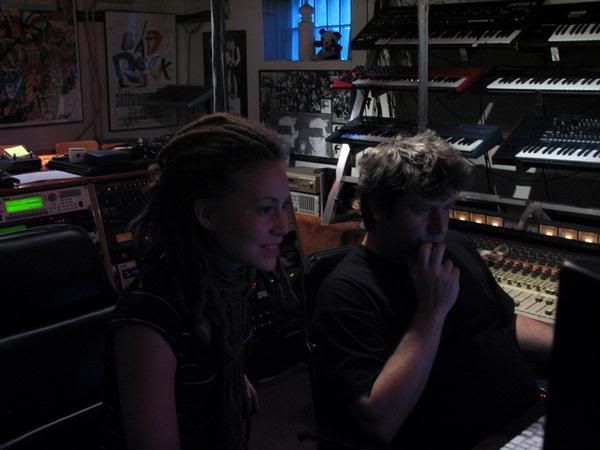 Me and MP worked in his studio (Tits & Ass, in Halmstad) since April. It's really great working with him! We're only at the beginning of this project but I already sence a feeling that this is going to be something like magic! TK gave me his first prototyp of his newly-constructed "fet-boost" guitarpedal! It's love across all borders!

Mariette Hansson, from Halmstad, SE -
MaryJet