"En Händig Man", the first single of the new Per Gessle's album, has been released this week. The album will be out in June. We like the sound of the new single, recorded at AGM Studios.sIf you want to know more about the album, read a mix of the words of Gessle in
his Swedish blog
,
TDR
and
Café Största Modemagasinet
. And if you want to know more about Aerosol Grey Machine Studios, the British-Canadian artist Luke Jackson has written about his experience there.
Meanwhile,
Brainpool
members have been in Los Angeles in the premiere of their rock opera, Junk. Brainpool is Christoffer Lundquist, David Birde, Jens Jansson. Started in the early '90s by four teenagers with a taste for new wave and Small Faces, their debut,
Soda,
immediately became one of the most successful records of the Swedish new pop wave. After a couple of years of touring and recording (
Painkiller
,
Stay Free
) they got tired of it and changed direction completely. They scaled down and became a trio and released a very different album (
You Are Here
) with influences like New Order, Harold Faltermeyer and Mr. Data. The band started to produce (Ed Harcourt, Florian Horwath, Roxette) and play with other acts (A Camp, Righteous Boy, Hideki Kaji, Viebeke Saugestad). During this period they decided to make a rock opera since it felt like the most stupid thing to do. Four years in the making, Playground Records Scandinavia released
Junk: A Rock Opera
as a double CD concept album (2004). In 2005, Sweden's Malmö Festival commissioned Brainpool to do a concert version of Junk with the Malmö Symphonic Orchestra. The one-time concert played on the main stage to an audience of ten thousand people. From the beginning, Brainpool envisioned that Junk: A Rock Opera should exist as a full-scale piece of theatre. In May of 2007, after three years of development and correspondence with director Shakina Nayfack, Brainpool flew out to Los Angeles to see the world premiere workshop. Their minds were officially blown.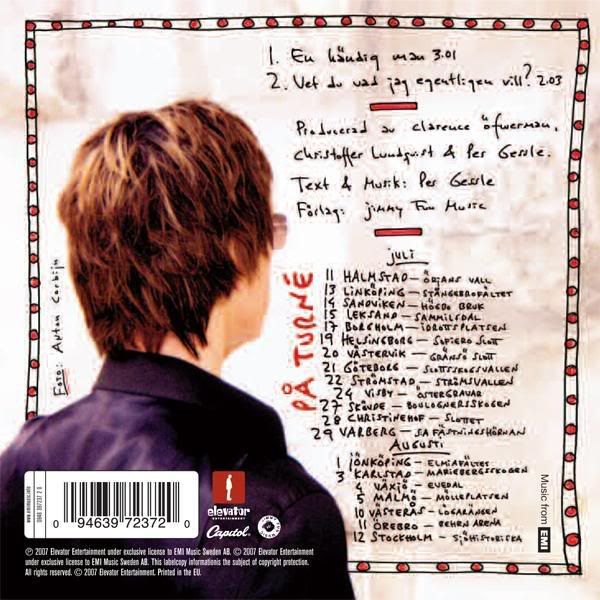 Last night I was at the cinema, with a happy son, some strange unsalted popcorn and some juice that had no flavour. The pirates of Caribbean islands came to town. I hadn't seen the other movies of the series, but this one was… hmmmm… good… or long… or good and long in a way. Keith Richards stayed late and this was great for us who remember Exile on Main Street. Some almost dead guys from Strix-TV were there and they poured water on the state ministry and Carola. Humor? Funny? What? Help! Today I woke up at daylight again with the shady colorful calls of the summer around me. The first thing on the agenda – the blinding duo Adam & Gry of Mix/Megapol. They are the best in town, I think. It's always fun to go there and drink their great Twin Peaks coffee. Nothing new under the sun, if you ask me… More interviews in the same DN building, then some rushing autographs for some rushing autograph hunters and then a car ride with Johan's Japanese red monster to the state Swedish radio network in the sunny Östermalm, for a new, long and deep analysis about how a handy man is living on this Earth. A record company! Video meetings! Walks home! I have listened to Mascot's "Stones Fell" in the kitchen with the volume to the max and meantime I blogged a bit. Now we're listening to Blondie's "Atomic" on the stairs in front of the house. Aaaahhhhhhh......

I'm extremely pleased with the album, I'm a very lucky man indeed, having this profession. I'm also glad that I managed to convince everyone that this brilliant EP had to be included! The four "extra" songs are as important as the other fourteen, no sub-standard third division tracks here, dear boy! And getting Anton Corbijn onboard doing the cover shots was terrific. He's the best there is! And really hard to track down! The whole package looks fantastic and feels very personal and even slightly "luxurious". Just the way I like it.
I like all the songs, otherwise they wouldn't have made it to the album, right! I don't think much about writing hits anymore. With Roxette it was extremely important to have three obvious singles for the USA market so I always put a lot of energy into writing three songs. But when I make music for Sweden I just write – and then someone else gets to choose the singles. I'm genuinely interested in music. I feel togetherness with these nerdy music journalists, because I'm a nerd myself. I've noticed that Marie (Fredriksson) never got the same respect I've gotten from the critics.
My lyrics has always been considered shit though. Maybe they are. But people always come up to me and thank me for songs I've written that have meant things to them. Many people play my songs at their weddings and such. So I still feel that my lyrics must touch them somehow. My lyrics go through all kinds of filters until they are finished lyrics. Every sentence, every word are weighed on a scale before let through. Many English lyrics are super banal; just listen to any of today's top 10 hits. When I sing in Swedish I think people listen more to what's really said and that makes it so much more obvious. "Sha-la-la" is used to enhance a song. Some parts don't work with words, then you use a "sha-la-la." Look at Sha-la-la (Make me happy) by Al Green or Brown eyed girl by Van Morrison.Those songs would never have been as great without "sha-la-la." "Sha-la-la" creates a groove and a schvung. It's perfect to have in a chorus. "Na-na-na" is softer. In The Look it wouldn't have worked at all with "sha-la-la" in the middle eight, it would have gotten too sing-along. There's "la-la-la" too, but I don't use that much. Then there's "ooh" which can be useful. And we can't forget "Mmmm." You do remember Crash Test Dummies' Mmm mmm mmm mmm? Aah is not a favourite of mine, but Led Zeppelin used that one a lot. The Beatles used sounds to a maximum. In Girl they used a damned nice inhaling sound and in Drive my car they sounded like a car horn. Damn that was great!
I have booked a heatwave and sunshine throughout July and August for the tour! You can do that at Ticnet nowadays. But I haven't, believe it or not, decided what to play yet! We'll try out lots of songs during the rehearsals. But for sure, a few GT sledgehammers will be included but no Rox. Hardly any SOAP, I guess I'll be sticking to the Swedish bonanza.
Record signings, full speed ahead in Stockholm June 13, Halmstad June 15 and Gothenburg June 16.
Half way through recording the SOAP-album I almost wished it was done in Swedish instead because it felt so damn personal. So very much "me". And in Swedish, of course, it gets even more personal and intimate. So my original idea with EHM was to make a slightly similar album but in Swedish! Something that was improvised, warm and very relaxed. After I had made SOAP I felt that, now I can retire, ha ha ha, this is the ultimate album, the best I can possibly achieve. But then a bunch of Swedish songs kept appearing in my hazy lazy afternoons. Most of EHM was written on the balcony in Halmstad last summer.
I really love working with Christoffer & Clarence, I love their generosity and brilliance and how they transform my usually quite vague and silly ideas into something unique and meaningful, at least for me. It such a treat to have them around.
I know that some fans want the old heavier powerpop sound back, but I'm not in that part of the universe at all at the moment. I want to make beautiful, personal, delicate music showing as little muscle as possible. I want my recordings to sound like springtime forever!!!! I might return to a heavier drum sound and a zillion overdubbed guitars sometime in the future, but at the moment that feels very remote.
We made dozens of different running orders and simply liked the one we ended up with. "Solen kom från ingenstans" was the ending track of the album until "Min hälsning" was born. And we couldn't find any other position on the album for "Solen…". But on the EP it's perfect. In the end it's all about the perfect balance between up tempo tracks and ballads, warm acoustic sounds and young frenzy. And with this running order the album ended up being approximately 40 minutes, which was a target of mine. And…if you want even more, please go ahead… the EP is there for you. Pretty clever, I thought…
It was so predictable that the evening/gossip papers should compare EHM with the GT25 tour. And that's an impossible act to follow. Everybody knows that. GT25 had about 25-26,000 people per show, Mazarin had almost 9,000 which is VERY good in itself and I think that's where the EHM tour will end end up as well. By comparison the major Swedish tours during the last few years has had an average of around 4,000. But Jeez… does it really matter? The album is finished and I feel good about it and it's gonna be released soon. That's what's important to me. If there are 7,000 or 17,000 at my concerts doesn't really matter really. Except for the hot dog vendors.
The best thing of having some money is that my family and I can decide over what we do to 100 %. We live in a nice house, when we go out and eat we drink nice wines and if I go shoe shopping I don't think about if the shoes are 40 kronor or… 50 kronor. I have no clue about how much money I have in the different companies. Honestly I don't care either. I sign some papers once a year and the bother is gone. I often read in the papers what a shrewd business man I am, but the truth is that I don't have a clue about anything like that. Don't know how it works. On the other hand I've bought quite a lot of art that turned out to be a nice deal. But that wasn't for profit or anything. It's not like I'll sell these pieces of art.
All has been quiet on the Luke Jackson music front for too long, but 2007 has
been the most exciting year in as long as I can remember, with wor
k beginning in earnest on that "difficult" third album. There has been nothing difficult about it in actual fact. I decided that the days of producing and engineering my own albums are ove
r. I wanted a new experience this time and I have been lucky enough to be recording with
Christoff
er Lundqvist
at his
fantastic recording studio
The Aerosol Grey Machine
in a converted barn in the heart of the countryside about an hour outside Malmo in Southern Sweden.
Christoffer is, in my humblest of opinions, Sweden's answer to Jon Brion. He's a multi instrumentalist with a mindboggling musical palette a
nd the most discerning
ear, nurtured over years of songwriting, performing, arranging, recording and mixing. He's built the studio from the ground up in such a manner that every bit of gear is like an extension of his body. To watch this man record and mix an album is to witness a beautiful synthesis of creativity and technology. I mostly sat in a chair in the corner of the control room, giggling.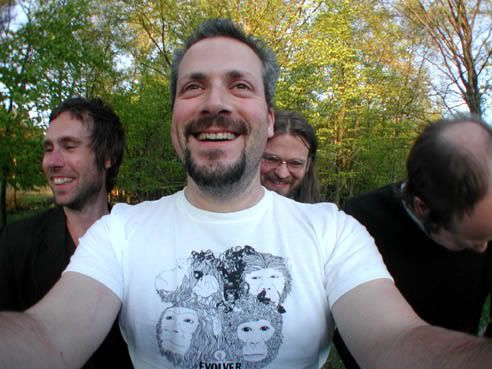 Aside from Christoffer I have been blessed on these sessions with the rhythm section of my dreams in drummer Jens Jansson (Christoffer's Brainpool bandmate) and bassist/multi-instrumentalist Magnus Borjeson who was behind two of my all-time favourite
bands: Beagle a
nd Favorita, and currently fronts Metro Jets when he's not touring with other acts like The Cardigans or Per Gessle.
The AGM is an
analogue studio in the truest sense of the word. There are mountains of vintage gear in every corner of the place. Name the most obscure recording device you can think of and Christoffer probably has two of it!
Magnus, Jens and I recorded all the bed tracks live off the floor through the Tr
ident Series B, a monster of a mixing desk, onto either the Studer or Otari 2" tape machines. Occasionally if Christoffer was inspired he'd grab an instrument in the control room while we were recording and add his own track of minimoog, lap steele, celesta, vibraphones or flute as he saw fit. This was the organic recording experience that my protools-addled mind had been craving all t
hese years.
Recording with Magnus and Jens has been great. Between us we found the arrangements that suited each song and then we'd play
them through until we got into the "take zone" of quality performances. We largely eschewed the bigger "live room" in favour of the smaller drum room where we could capture the energy of the band.
When all the bed tracks were done we would bid Magnus and Jens farewell and get to work on the vocals and overdubs. Christoffer always knows which combination of guitar and amplifier is going to give us the best result for each song. Occasionally he would indulge some of my koo
kier ideas.
After a couple of days of vocals and overdubs, Magnus would come back up from Mal
mo for an evening of overdubs. Some of the best fun we had was r
ecording backing vocals. We'd work out three-part harmonies at the piano and then record them with the three of us singing into one microphone in the control room. We recorded every part three times so there would be nine of us on the song.
Once the overdubs were done, we had everything we needed to begin mixing. For those of you who are unaccustomed to music jargon, let me explain
it in cooking terms. Writing and arranging a song is like coming up with a recipe. You decide what you're going to need and what goes in when. Recording the
song is like going shopping for the ingredients. You make sure you only pick the finest quality and freshest ingredients you can find. Then when you have all your food laid out on the counter, it's time to put it all together and make it work. This is the mixing process.
In most
moder
n studios, mixing means programming the computer to add effects a
nd echo to each track at certain points, make the
tracks louder, quieter, wet, dry, left, right. At AGM Christoffer does all this as he goes along, literally "performing" the song from the tracks on the 2" tape
machine as the song plays. He doesn't use any outboard reverb units...he has two purpose-built echo chambers in the studio...if he wants to manipulate the amount of echo on a track, he moves the microphone around the echo chamber, or opens the door to the chamber a little more. After hours of careful manipulation, Christoffer is ready for the ultimate performance of the song, the finished mix which gets recorded directly to the two-track Studer 1/4" tape machine. Each mix is always unique and when we think he's got the perfect one, we listen to it several times to make sure we're happy with it. Sometimes when it's
almost
perfect, it's easier to edit the finished mix by cutting and "splicing" the 1/4" tape than trying to recreate the perfect mix again.
At the end of this last trip to Sweden, we have almost all the tracks recorded and two songs are completely mixed. The next sessions are not until October since Christoffer is busy touring with
Per Gessle
(along with Magnus and Jens). However, the October session is perhaps the most exciting of all, since we will be recording string arrangements for half of the songs which are being written by another of my musical heroes,
Robert Kirby
.


In the m
eantime I will be busy trying to find the best way to bring this alb
um to discerning ears around the world. I'm not quite ready to post any
of
the new songs on my myspace page but I can't wait to play them for yo
u all soon. Thanks for stopping by...more from me later!

We're back from Los Angeles (LA) where we went to see the first staging of our rock opera Junk. And what a show it was! It was more than we had ever dreamed of...
LA Weekly loved it and so did we. We can't thank all the people who made this happen enough. But, THANK YOU Shakina, Justin, Joseph and all the rest of you!


No sleep 'til Broadway...