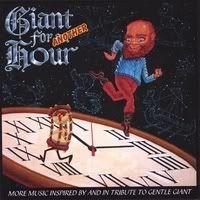 The Good Mornings

, the Swedish band leaded by Dan Bornemark and Helena Josefsson between 1999 and 2001, have got their small revival. The band included
Helena Josefsson (lead vocals), Dan Bornemark (keyboards, vocals, music),
Jens Ståhlstierna (guitar, vocals),
Figge von Wachenfeldt (keyboards, vocals), Rasmus Kihlberg (drums), Bosse Håkansson (percussion) and Björn Gustavsson (bass).
A song has been lately re-recorded in 2005 adding backing vocals by John P. Weathers (original drumer of Gentle Giant). It is

Let Truth Reveal the Beast

(Bornemark/Josefsson) and is now included as the opening track in the

Giant for another hour

CD (a tribute to Gentle Giant released on 31st August 2006). These are the credits of the song:
Helena Josefsson: lead vocal; Paul Hoffax: guitar; Bengt Johnson: drums; Dan Bornemark: all other sounds except: John P. Weathers: additional backing vocals. You can listen to the song here:
Giant Hour 2 (CD Baby)


Dan Bornemark wrote:
"

Recorded in 1999 during our wonderful project 'The Good Mornings.' Dedicated to Tobbe Russlander and his right to be a father. Tobbe is still not wanted as the father he is.

"