Junk Musik members, the record company of Christoffer Lundquist and his friends, keep working hard.

Bo Sundström continues touring and promoting his debut album,
Skåne
. Jens Jansson and David Birde are in the band. Magnus Börjeson, the bass, writes about two gigs:

22.7 Stockholm, Stockholm Jazz

24.7 Pori, PoriJazz (Finland)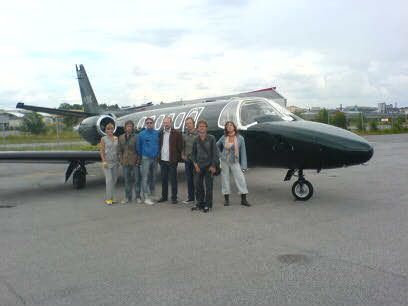 This is depressing. The rain is pouring down in Stockholm and it's only hours before tonight's show at Sthlm Jazz Festival . (Why are we playing at a Jazz Festival?) And we intended to walk there from the hotel. Now it looks like we're going to have to take the underground. And that is depressing.
Oh, never mind. Music is fun. And at least we will have a roof over our heads when we play. Sadly the audience won't. That's one very good reason to become a musician. Other reasons? Er… Well, it's one of the few jobs where you get free beer when you get there. That was also the case yesterday in Jakobstad (Finland). Excellent food all day long and lots of ice cold beer. And no rain! We want to go back!
Bye!
The weather was bad, the gig was good and so were we. The Jazz audience seem to be of a different material; they patiently stand in the rain, getting their money's worth. Very nice. Yesterday was "day off" in Stockholm. We ate a lot, drank a lot and saw lots of people being slaughtered by agressive tripods. Yes, we saw "War of the Worlds".
Today it's time to play again. And guess what; It's a Jazz Festival. And guess what again; It's in Finland. So you could say that this gig is a combination of the two we've already done on this mini tour. Full report coming up!
Bye!
Jet… ooouooouooouooooo! -25nd July-
Oh dear, we haven't really landed yet. The mini tour ended with a huge climax! For some reasons we had to go by private jet, a
Cessna Citation
, to the gig at Pori Jazzfestival in Finland. And although our collected experiences in the world of rock extravaganza are rather impressive:-) we all had to agree that this beat all of it. It's impossible to describe the flight but here are some clues: 33ooo feet, White leather, Mahogny, Gold, Lisa Nilsson, Red wine, Whisky, White wine, 685 km/h
Lisa Nilsson? Oh yes, we brought her along as you can see by the picture that was taken before the flight. We look rather enthusiastic. After the flight we all looked religious (and slightly drunk). The DIY-ideals of Junk is from now on ditched. Our major goal now is to have our own private jet:-) The jet experience made a huge creative impact; Lisa spontaneously wrote the country-style ballad "I Am Not An Indie Girl" and New David composed a hymn called "Make up & Gin" only minutes after landing. Fantastic. Over and out! Roger

Magnus Börjeson

Magnus Börjeson called. Anders Jansson (Swedish comedian) wanted to play Metro Jets'
"Lady Gwendoline"
during his appearance on the traditional summer radio show
"Sommarpratarna"
, but he was not really sure that the radio station would accept an AAC-file. Since the recording of the show was due today, and Magnus could not reach Anders, he called and asked me to get hold of the radio station and try to send them an AIFF-file.
I called. I got patched through. Someone picked up and slammed the phone down. They had put me through to the studio. The show was being recorded live. Two things on my mind: Will "Lady Gwendoline" be played the 6th? Will we hear a phone ringing? Minutes after, a guy from the radio station called back. I was pleased to hear that he only wanted to interview Brainpool about the JUNK LIVE EXTRAVAGANZA NIGHT at Malmöfestivalen, august 20. I gave him Jens's phone number and walked quickly to the coffee machine.

Anders Mildner