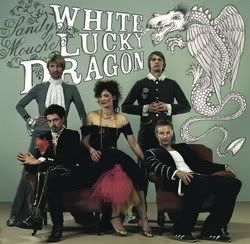 Sandy Mouche
are releasing their debut album "
White Lucky Dragon
" on the 20th of september! (For the peeps that go blank now...Sandy Mouche is the band in which Helena Josefsson is singing) . The album is recorded in the now famous Aerosol Grey Machine studio, owned by Christoffer Lundquist who also produced the album together with Sandy Mouche.
They have completely renewed their website,
http://www.sandymouche.com/
, really nice stuff there! Have just listened to a couple of songs and seen some video material and have to say that I can't wait for the album...really like it! The pictures section has some pix of the recording sessions as well...
Saar (aka
Sarah den Rara
),
from Alkmaar, Netherlands


I´ll order the Sandy Mouche album too! Can´t wait to hear it! For those who want to spend some more money: There´ll be a Sandy Mouche Tour in November! I´m thinking of going to one concert!


Nicole Breuer

-

HJ Official Forum




Oh my, have seen this only now and OF COURSE I'm gonna get the album. Can't wait. And HOW I wish for a tiny little Sandy Mouche concert in November, in Malmö, on a Saturday...


Heike Lohrengel

-

HJ Official Forum

Hej SM! =)) I'm so happy to hear about your album is released at last! Can't wait to hear that beautiful voice we've heard on Gessle's Mazarin Sommarturne! =)) Helena, you're great!!!!!! =)) Your Russian fan, Ilia