According to
TDR
, the upcoming Gyllene Tider-single
will
be "En sten vid en sjö i en skog" and it will be released next Wednesday. But there's "another" single as well.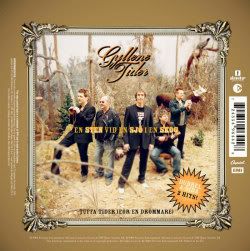 It's an old Gyllene Tider tradition to release double A-sided singles; it started with "Flickorna på TV2/Himmel No. 7" and continued with "Ska vi älska så ska vi älska till Buddy Holly/(Dansar inte lika bra som) Sjömän." Now, this new single will follow that tradition by including two tracks: A-side "En sten vid en sjö i en skog"
and
the A-side: "Tuffa tider (för en drömmare)" (Tough Times (For a Dreamer)). "Tuffa tider" includes a ukulele and an ocarina, while "En sten…" is a power-pop song á la Gyllene Tider.
We have also found the credits of the full album, Finn 5 Fel! Clarence Öfwerman appears as GT producer for the first time and Christoffer Lundquist did a great work in his studio as producer, technician and mixer. Helena Josefsson features as backing vocals.
Lyrics By, Music By, Guitar, Vocals
-
Per Gessle
Bass
- Anders Herrlin
Drums, Vocals
- Micke 'Syd' Andersson
Guitar
- Mats M.P. Persson
Organ, Piano
- Göran Fritzson
Backing vocals
:
Helena Josefsson
and Jennie Löfgren
Producer
-
Clarence Öfwerman
Producer, Technician
[Tagm & Polar] -
Christoffer Lundquist
Technician
[T&a] - M.P. Persson
Mastered By
- Björn Engelmann
Mixed By
- Christoffer Lundquist (except song nr. 7, by M. Ilbert)
Artwork By [Cover]
- Kjell Andersson , Pär Wickholm
Artwork By [Painting In Photos]
- Bruno Liljefors
Photography [Biologiska Museet]
- Jonas Linell
Photography [The Aerosol Grey Machine]
- GT ,
Jens Jansson
Now we have other important news: Chistoffer Lundquist's band,
Brainpool
, will premiere their long-running "
rock opera
" this summer in Malmö with a big orchestra. David Birde, Jens Jansson and Christoffer Lundquist have been working in this project since 2000.
By the way, the short-film "
Bikini
", directed by Lasse Persson, was premiered last month. The music of the film was written by
Magnus Börjeson
. Bikini is an animated musical starring an young man who is afraid to come out…who is afraid to come out of the locker. The plot takes place on a beach year 1960, where a couple of happy twins and their lady friend like to spend the summer.
Original title: Bikini
Director, Screenwriter and Producer: Lasse Persson
International release date: 2004-Apr-1
Animation: Lasse Persson, Magnus Hjerpe
Design: Lasse Persson
Music: Magnus Börjeson
Sound: Olle Tannergård
Produced by: Swedish Ecstasy Film in cooperation with Filmpol Mitt, Film i Skåne and Swedish Television AB. Supported by Swedish Film Institute/Jesper Bergom-Larsson
Principal cast: Magnus Börjesson and Susanna Dzamic (voices)
Category: Animation, musical
Screening details: 35mm - 1:1.85 - Colour - Dolby SR - 7 min - English
Awards: Honourable Mention, Berlin International Film Festival, Germany, 2005; Jury Award for Best Short Film, Copenhagen Gay & Lesbian Film Festival, Denmark, 2005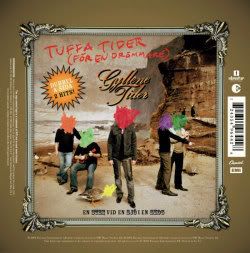 It's been like going on a very much longed for school trip recording with the Gyllene-guys again. We recorded 15 songs down in Skåne and 14 have made it to the album. Half of them feel like strong singles so it's been almost impossible to select a single. So we picked two!


The first concert I ever went to was a Gyllene Tider concert, during Moderna Tider, I remember I listened to it in secret because I thought it was a big embarrassing, a bit girly music, and I liked heavy important prog rock, but there was something about his voice you couldn't resist, couldn't not listen to it, that hit me.

When David Birde and Christoffer Lundquist first introduced me to the idea of a "rock opera" one late evening, I thought it really sucked. I thought it sounded awfully lame and didn't see how we would ever manage to pull it off. But once we got started, it turned out to be lots of fun. And because it became such an enormous project, it became increasingly important to prove to ourselves that we could finish it! We'd been working on it for ages. At times we felt like giving up because it was getting so damn tedious, but then each time we sat down to work on it again, we got the feeling that we simply had to complete it, since it'd been such a mad concept from the beginning!