According to Evensson, from The Daily Roxette, Per Gessle threw a release party for friends, select media and competition winners Tuesday night to promote his new album "Mazarin". About 600 people attended the club gig at Leif's Lounge, the night club located in the lower level of Hotel Tylösand in Halmstad. Per and his band performed ten songs at the mini concert. Joining Per onstage were Jonas Isacsson (celebrating his 23rd birthday, according to Per), Anders Herrlin (of Gyllene Tider), Christoffer Lundquist and Jens Jansson (of Brainpool), and Helena Josefsson (of Sandy Mouche and soon to be married).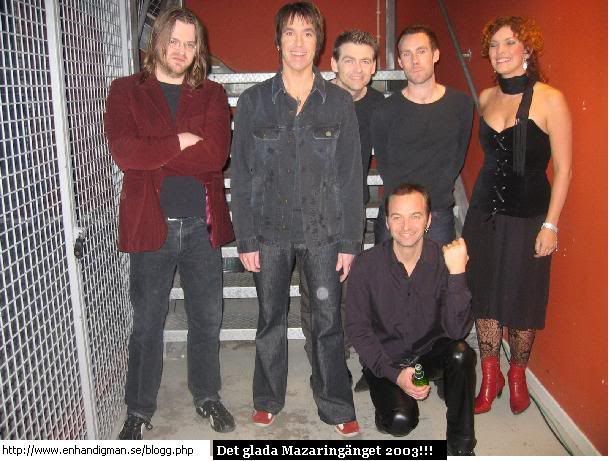 The concert opened with Gyllene Tider's "Kung av sand", continued with the new song "Vilket håll du än går", the album opener. After that "Om du bara vill", "Gungar", "Tycker om när du tar på mej", "Födelsedag" (dedicated to Jonas), and "Här kommer alla känslorna"… all from the new album. After leaving the stage, the band returned almost immediately and played "På promenad genom stan" (alas without Marie), John Holm's "Den öde stranden" (that Per claims he always has to play whenever he does something in Swedish), and finally the old Gyllene Tider rocker "Vill ha ett svar!" from "Swing & Sweet" ("Covers are fun," says Per). "Billy" was, according to TDR information, mysteriously cut from the playlist.
Per Gessle and the band are thinking about a Tour. The big problems are that Per's key players, as he calls them, are partly booked with other artists. Jens will do a Japanese tour for instance. This is what they are trying to solve at the moment.
All in all, a nice evening with lots of happy fans. Prominent guests spotted by TDR included MP Persson, Micke Syd, Göran Fritzson, Peter Jöback, Frida Lyngstad and Björn Ulvaeus to mention a few.
Read the experience of a Dutch fan and Per Gessle's words to TDR below.
This was the day of the concert! In the afternoon we tried to find the old "Tits and Ass"-studio. We could not find it, because the road next to it had changed. We thought the studio was on the righthand-side of the road, afterwards we found out it had to be on the left side. At around 18.00 we could pick up our vouchers from the fanclub (Eugene). Marie-Claire, Marc and Jaap got a voucher; Harrie was as guest of Marie-Claire also allowed to enter. A little bit later we could pick up our entrance-tickets. After some waiting, the doors were opened at 20.30 and after showing the entrance tickets, we could enter "Leif's Lounge".


The stage was already filled with the equipment of the band, so we only had to wait for the band to show up. Then finally at around 21:25 the band came up and started playing. It really was a great concert! The next pictures have been taken during the concert.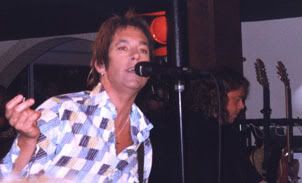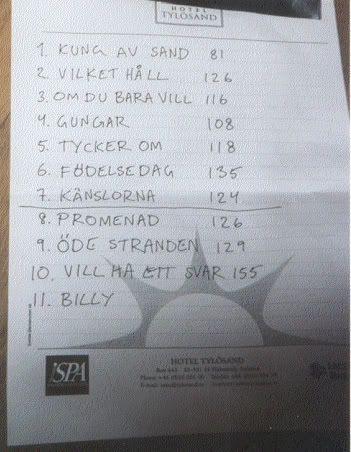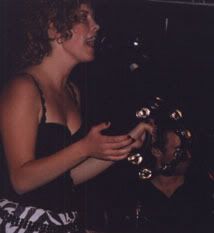 We've only rehearsed together for three days, and just forty minutes yesterday. So, the funniest thing with this album is the aura surrounding it. Everyone's so enormously positive. The thing that is so special with the band Mazarinerna is the mix of all voices. Helena and Christoffer are enormously active and give the songs a new dimension. That is weird. This is my first record in eternities without pushes and plans for a specific number of single-outtakes. I only follow my own heart and do that what comes at the hour. And just that song, that I myself did not believe in as a single, is becoming the quickest hit that I have ever written! Of course, it's quite easy to take this here on tour. It's wonderful band, and we have a splendid time together. I'm indeed attracted to tour, but all depends on if I can get free som key people for such a tour. We have logistic problems but we will see. The problem is to find employees that are not already fully booked, to solve everything purely logistic and practical. Because we're out so late, many of those that I wanted to have with me are already booked by other artists. We will talk it through but a few key people are already booked. We have a meeting tomorrow and then we will see if all pieces fall together. Otherwise we will put it aside. We will make a decision this week.