Justin Winokur has begun the recordings of his first solo album at AGM Studios with Christoffer Lundquist. Read his blog! Helena Josefsson will take part as backing singer.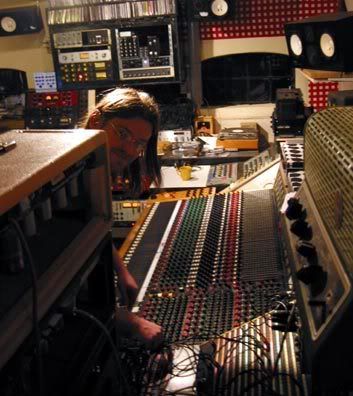 November 20th was the beginning of day 2 in the studio. Already we had decided upon the key of 6 songs and recorded the basic guitar tracks for No Truth Anymore, Never Go Back Again, Lullaby, and Fly Away. Lullaby was exceedingly difficult to play with a click, so Christoffer Lundquist recorded tambourine and piano tracks that I used as my tempo source instead. This allowed me to play more fluidly and without hesitation. With only a simple click there is too much pressure during the spaces between the beat divisions. Other instruments allow a more natural feel for me.
Recording the acoustic guitar tracks for No Truth Anymore was the most fun, simply because I had so many mics in front of me while Christoffer listened to find the best one. I felt like a dictator during the 1970's, preparing to give an important speech into a cloud of microphones of various shape, size, and vintage.
We ate dinner at a place in Sjöbo, the nearest town to Christoffer's town, Vallarum. With less than 10 houses, Vallarum is barely a village. At the restaurant in Sjöbo I ate something called öggakaga med skinka och lingon. Basically it was a 10 egg soufflé with landing strip sized pieces of bacon on top of it. It came with an earthenware bowl full of lingonberry sauce. At 105 kr ($10.50 USD) it was a stellar value, seeing as it was more than enough food for 3 people. How will I keep my girlish figure if I continue to eat this way?
I had really hoped to update my web site more frequently during this trip, but it is just not possible with our grueling work schedule. I wake up at 12 noon and begin recording at 12:30. We take a few short breaks for food and then finish up about 2 AM each night. I drive my own personal white Volvo the 2 km to my cottage and then crash out immediately. Next day: repeat schedule of previous day.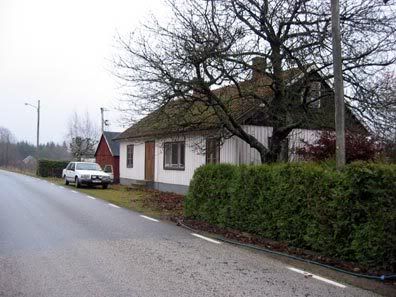 The house I sleep at is more of a cottage than a house. Actually, I wouldn't really know, since all I do there is fall into bed and sleep. You can also see the Volvo that I get to drive. This car is special because, unlike any modern Volvo in the USA, it has a manual transmission.
The rigorous schedule has payed off. We have completed all the basic tracks for six songs: bass, electric and acoustic guitars, drums, zither, and piano.
This evening we finished the background vocal arrangements and recordings for Lullaby. The harmonies sounds so lush: sort of like a megapop collision between the Beach Boys and Brainpool.
My brain is too tired to think anymore. Sleeping.