According to Aftonbladet and The Daily Roxette, Per Gessle is currently writing songs for a forthcoming Roxette album. So far, five or six songs are ready and more are coming. During Christmas, Per going to record demos in Halmstad and in the spring Marie will join him to record the final versions. Per talks about it.
But it is not his only project. Per could record soon a new Swedish album with his partners of Gyllene Tider (MP Persson, Anders Herrlin, Göran Fritzon and Micke Syd Andersson) or maybe with his new band (Clarence Öfwerman, Chris Lundquist and Jens Jansson). His friend Mats MP Persson, could be there anyway.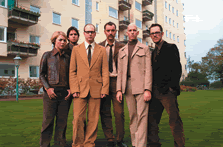 By the way, one of our favourite films this year in LJdM has got many international prizes in the last months.
Produced by: Kostr Film, SVT and Film i Skäne
Directors: Ola Simonsson, Johannes Stjärne Nilsson
Music: Ola Simonsson
Music productor:

Magnus Börjeson
Capalbio Film Festival 2001: Best Film
Napa Valley Film Festival 2001: Grand Prize
Göteborg Film Festival 2001: Audience Award, Honorable Mention
MECAL Film Festival Barcelona 2001: Audience Award
Copenhagen Film Festival 2001: Honorable Mention
Odense Film Festival 2001: Jury Special Prize
Vila Do Conde Film Festival 2001: Audience Award

After the recording of the demos, we'll see. But I hope we would be able to release a new Roxette's album during the next year. A tour could continue in 2002. There are places we didn't visit this year: Ireland, Italy, South Africa, Asia… it's a big world.

I have so much Swedish material lying around. I haven't recorded much of it, but there are a lot of songs. There will be a day when we choose to take a break from Roxette again. And I miss communicating in Swedish. So, there will certainly be an album.

My favourite songs ever? Difficult question. I like e.g. 'Love Grows' by Edison Lighthouse, 'Jeepster' by T-Rex and 'Stand By Me' by Ben E King.