How to begin this story?
Roxette
(Per Gessle and Marie Fredriksson + the producer Clarence Öfwerman) went on their big World Tour between 1994 and 1995. It was an exhausting tour all over the world (Sweden, Germany, South Africa, Asia, Russia, South America, ...). In 1995 they decided to take a break and Per Gessle thought about releasing his own songs; he had also got some new songs composed during the Crash! Boom! Bang! World Tour so he began writing some more thinking about this new project. Roxette was formed in 1986 and since then, Marie had released some Swedish solo records, while Per had been more focused on Roxette, that had got many succesful albums (
Look Sharp!
, 1988;
Joyride
, 1991;
Tourism
, 1992;
Crash! Boom! Bang!
, 1993), hits (
The Look, Listen to your heart, It must have been love, Joyride, Fading like a flower, How do you do, Sleeping in my car
, ...) and tours.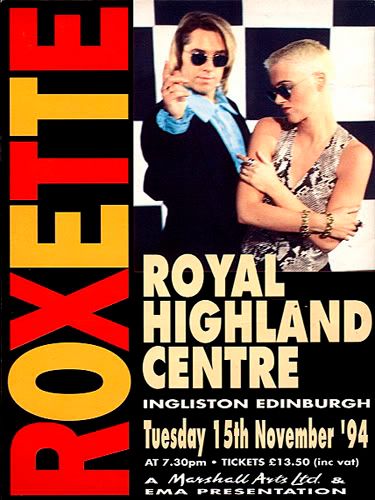 Finally, Roxette (or their company?) decided to publish a Greatest Hits album in 1995, titled
Don't bore us! Get to the chorus!
(DBUGTTC) Roxette needed some new songs and Gessle used some of the songs that would have been in his own solo album. Two of the songs,
June afternoon
and
She doesn't live here anymore
, were recorded in Stockholm with the members of
Gyllene Tider
(the first band of Per) in July and August 1995. Per said: "
We used to knock out power pop songs like this in our sleep back in 1980-81. This summer we re-united shortly, just for the fun of it, and I was amazed by the energy level we had both live and in the Studio.
"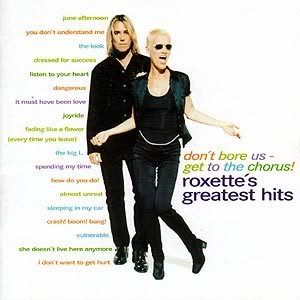 DBUGTTC was released in October 1995 and there were no live performance after the London Abbey Road Sessions in November. Gessle could start thinking again about his own projects. because there were no inmediate plans for Roxette. I think this last experience in the Beatles house influenced Per very much. In 1995, he had also recorded some songs with some members of Wilmer X (Nisse Hellberg and Thomas Holst) and Gyllene Tider (MP Persson and Micke Syd Andersson) in the very rare album
The Lonely Boys
, recovering the 60s air.
In the summer 1996, Per Gessle went on a reunion tour throughout Sweden with his 1980s pre-Roxette band
Gyllene Tider
in Sweden. Atertaget 96 ['Return Train '96!'] was the fifth tour by Gyllene Tider, following their first reunion and the release of the album 'Halmstads pärlor / Samtliga hits! 1979-1995, with some new songs recorded in April and May 1996. Atertaget was the nearly best visited tour in the entire Scandinavian music history, breaking all previous tour records with over 300,000 spectators in a country of only 9 million inhabitants.
Gessle had some extra English material. Gyllene Tider, after the flop of their first (and last) English album (
Heartland
, 1984), was defined as a band in Swedish. So Per began thinking about his first English solo album and called their partners from Roxette (Clarence Öfwerman), Gyllene Tider (MP Persson, Micke Andersson and Anders Herrlin) and the Swedish band Brainpool (Christoffer Lundquist and Jens Jansson).
Brainpool was the supporting band in Europe during the
Roxette Crash! Boom! Bang! World Tour 1994/95 and is also one of the Gessle's favourite bands.
Brainpool
is a pop group from Lund, Sweden, cited as "Sweden's Oasis" or "Swedish NSYNC". It has been popular, mostly in Sweden, and never really has made it abroad. The band was discovered by Per Gessle, who signed them to his music publishing company Jimmy Fun Music. The members of the band are Jan Kask (vocals), David Birde (guitar), Christoffer Lundquist (bass guitar) and Jens Jansson (drums).
Per and all the team have been working in the new album between September 1996 and January 1997. Gyllene Tider's members played an old cover song with Brainpool and Eggstone last New Year's Eve at Swedish TV.
PER:
What's up?
Gessle:
A lot. I've just finished the record. Been mixing and mastering and retouching the album pictures. It's been a lot of work.
PER:
Retouching your pictures?
Gessle:
Yeah....no...I mean, the songwriting, recording and mixing took some time too.
PER:
But you're not the cable kind of guy are you?
Gessle:
No, I'm a lost case when it comes to technology. I've done some of the mixing together with the invaluable Michael Ilbert and Clarence Öfwerman, who helped me produce the thing. As P.J. O'Rourke says; to them goes the credit - I'll take the money. We've been recording in Benny Andersson's superb studio in Stockholm.
PER:
The Benny Andersson? Of Abba fame?
Gessle:
Yep. But the mastering was done by Michael Ilbert and George Marino in New York. I asked if I could contribute something and they said they'd phone me.
PER:
Why a solo album now?
Gessle:
I needed the money.
PER:
Surely you must be joking.
Gessle:
I'm deadly serious and don't call me Shirley. Or was it to make a detour from the Roxette path? Yeah, that's it. After the "Crash!" album and tour I started writing new material in this direction. You know, "Sleeping In My Car", that was the last song recorded for "Crash!" and it became the first single. It was written in desperation more or less. I felt that we had perfected ourselves a bit too much, that the energy level was dropping with every month we spent in the studio polishing details in the sound picture. I'm a pop addict and I wasn't getting enough.
PER:
So that's when you started thinking about making a pop album?
Gessle:
Yeah, candy-coated, loud and un-bluesy.
PER:
How does success change a person? Do you change friends? Is there a club for millionaries? How can you keep up when you don't have to?
Gessle:
I'm surprised to hear such an intelligent question from you. Of course you change. Everything changes. The way you see things, the way other people see you. But pop music isn't my job; it's my life. You probably have to be that obsessed to survive in this business. Success and money is a kick, but the greatest reward is the boost your confidence gets. Success makes it easier to know what you want and to get things done the way you want it.

We came from nowhere and in a couple of months we Brainpool were suddenly playing to 15000 people in Barcelona during Roxette C!B!B! Tour, so we were just "aaaahhh!". It was an amazing adventure. We soon realized it was amazing and fun and learnt a lot. But at the same time nobody really wanted to hear us, of course, I mean, that's the way it is with support acts. We also realized that after a while, some of the hard-core Roxette fans sort of started to like us, so that was nice. We got a better reaction in some countries. But I remember a gig in Prague, where they had particularly big tickets, and "Roxette" was written on them with large printing, after we had played a couple of songs, people started to raise their "Roxette tickets" .. but well, it didn't matter, we just played even faster and louder. It was fun, to find small groups of people at the shows who actually listened and sing along. I remember the gig in Barcelona, we didn't get much reaction from the audience in general, but Spain is different, you know, so I remember I was playing, I just took a couple of steps to the left and then everybody stood up, I was like "WHAT?", that had never happened before. Haha! There was even a fanclub, started by a Swedish girl called Annika. There was also a girl called Nadja, yes, I think that was the name, from Germany.. or maybe Austria? It was really crazy in Sweden for a year or two, a lot of young girls, like 14-year old girls who fell in love with Janne. It was a bit like Gyllene Tider but on a smaller scale.