Last August 5th Gabriel Titus (GT), the first son of Per Gessle and Asa, was born. Congratulations!
The third single outtaken from the album
The World According to Gessle
has been also released in August.
Stupid
?
Wish you the best
? No:
I want you to know
.
Without any promo efforts, the single has been a real flop in the Swedish sales charts where it has stayed for only two weeks, peaking at no. 48, . Made in The Netherlands for sales all across Europe but even the CDM has been deleted after its release due to a lack of success.
From
Le Journal des Mouches
, I have no hope to see the
Stupid
single, although I disagree with the mistaken election of the TWATG single.
It seems Per Gessle stopped thinking about a new solo band from the summer and changed it for Roxette and diapers. This is what he said on 11th August:
"I have written lots of fantastic, hilarious, award-winning mega songs for the new Rox album (to be recorded in Spain and Los Angeles). But you don't get any titles from me at this stage for copyright reasons. Clarence Öfwerman and Michael Ilbert will be co-producing together with Marie Fredriksson and myself. New demos sound great. Future's so bright I gotta wear shades. After all, I'm probably the musician/artist in the world who doesn't wear shades very often. I'm too polite... I only wear them when I have a blistering hangover. I learned this from Marie. I talk to Marie Fredriksson at least once a week, since we've a lot to talk about; diapers, the USA recordcompanies, new music, new album, re-releases, birthdays."
After August, there have not been many news from Gessle's last project, The world according to Gessle.
Gessle just has two performances at Swedish Television.
- 1997/09/07 TV Huset, Stockholm, Sweden




Per Gessle performed the song

I want you to know

playback and did an interview at the TV-show 'Söndagsöppet'. Broadcasted live by the Swedish television station SVT1.




- 1997/10/24 TV Huset, Stockholm, Sweden




Per Gessle performed the song

I want you to know

playback, did an interview, and answered telephone calls from money-donating viewers at the benefit gala '[En kväll för] Världens barn'. Hosted by Kattis Ahlström and Hans Rosenfeldt. Organized by Radiohjälpen and the Swedish television station SVT. Broadcasted live by the Swedish television station SVT2.
It seems there are no more plans about TWATG and that the promising collaboration between the Roxette members (Gessle and Öfwerman) and the Brainpool members (Lundquist and Jansson) is paused.

Elena Martin (EMI Hispavox), said last October 26th: "
It seems Marie Fredriksson and Per Gessle will start recording their next album in Spain from January, 1998. I don't know where yet, last time Per was here we gave him some information about a very nice studio in Málaga, by the sea, close to the mountains, where they could spend some time with their families as well, but I don't know anything yet.
"
On 27 October 1997 a remastered edition of Roxette's debut album Pearls of Passion was re-released most everywhere on both CD and MC, enriched with eight bonus tracks. According to Niklas Fjäder, last November 2nd, the football club Halmstad BK from Roxette's hometown celebrated their championship in the Swedish soccer league at Stora torg, Halmstad, Sweden. Marie Fredriksson and Per Gessle joined the party together with a lot of other citizens.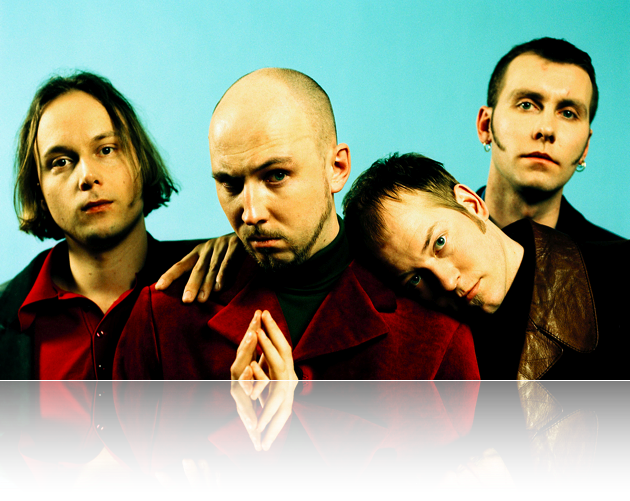 Today we want to remember one of the best Swedish bands of the nineties (together with Eggstone and Brainpool.

In 1991,

Magnus Börjeson

, Calle Håkansson, Anders Mildner, Benjamin Peetre, Jakob Peetre and Daniel Sandström, from Lund, Sweden, formed the indie pop band

BEAGLE

.



They signed a record contract with Polar in Stockholm and released 2 albums in all Europe and Japan.

Beagle's

SOUND ON SOUND

(1992) - Singles: A different Sunday (1991), The things that we say (1992), Turn your head around (1992), This time (1992)
Beagle's

WITHIN

(1993) - Singles: Nine out of ten (1993), When I speak your name (1993), One layer down (1993).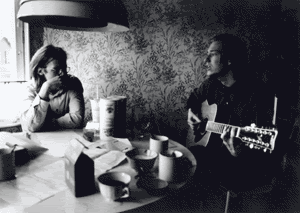 1991 - Calle Håkansson and Magnus Börjeson -
Demo recording at Daniel Sandströms appartment, Lund. Photo by A. Mildner

In 1992, Beagle was nominated for best new popband in Swedish Grammies and

The things that we say

became a hit in Sweden. They have many gigs in 1992 and 1993.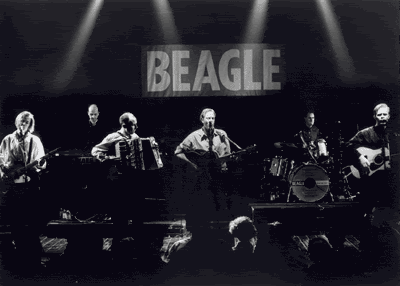 1992 - Beagle performs at Mejeriet, Lund in 1992.
From left to right: Calle Håkansson, Jakob Peetre, Benjamin Peetre,
Magnus Börjeson, Anders Mildner and Daniel Sandström.
Pic. by Gunnar Svensson
In 1994, Beagle transformed into

Favorita

and starts recording. The leader, Magnus Börjeson (bass and vocals) and Benjamin Peetre (keyboards) decided in 1994 to transform Beagle into a new band, Favorita, with 4 members: they plus Fredrik Blank (guitar) and Conny Stade (drums).

Favorita signed a contract in 1994 and played support for the famous band
PULP
in their gigs in Sweden during 1996. They also released their first single, Seven Comforts.

Many people were waiting for the new album from Favorita, that was recorded in 1994. According to Magnus Börjeson, it seems the album is permanently put on ice after longlasting trouble with the record company. Magnus has begun to work in other projects (he has worked in a musical, Leonard Pläd, this year).
It is a pity that this interesting band from Lund did not release a new album.